Yonex served as an official supplier at the Hulic Daihatsu Japan Para-Badminton International Tournament 2017 in Machida City General Stadium in Tokyo on September 7-10th.
While the tournament attracted attention as Japan's first international para-badminton tournament, Yonex supported the athletes with the Yonex Stringing Team and also provided shuttlecocks, court mats, etc.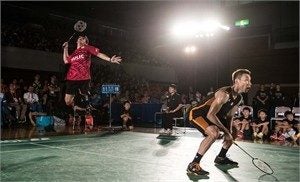 Approximately 180 players gathered from 28 different countries around the world to a big international tournament which has never been seen before. During the 4-day event, large crowds of over 3,500 people cheered along and commented such as "I was amazed at the power of Para-Badminton." Para-Badminton will be an official competition from the 2020 Tokyo Paralympic Games. After the finals concluded another first, The Legends' Vision Japan, was held. Aimed at further promoting badminton, it was presided over by Legends of the badminton world, Peter Gade (Denmark), Lin Dan (China), Lee Chong Wei (Malaysia), Taufik Hidayat (Indonesia) and Lee Yong Dae (Korea). A total of 3,200 spectators packed the event with the entire venue wrapped in enthusiasm and enjoyment.
Yonex will continue the spread and development of para-badminton.
Hulic Daihatsu Japan Para-Badminton International Tournament 2017
Category winners

Men's Singles

SL3 (Standing lower)
Daisuke Fujiwara (Japan)
SL4 (Standing lower)
Lucas Mazur (France)
SS6 (Short Stature)
Jack Shephard (England)
SU5 (Standing Upper)
Liek Hou Cheah (Malaysia)
WH1 (Wheelchair)
Dong Seop Lee (South Korea)
WH2 (Wheelchair)
Jung Jun Kim (South Korea)
Women's Singles

SL3 (Standing Lower)
Parul Dalsukhbhai Parmar (India)
SL4 (Standing Lower)
Hefang Cheng (China)
SS6 (Short Stature)
Rachel Choong (England)
SU5 (Standing Upper)
Ayako Suzuki (Japan)
WH1 (Wheelchair)
Sujirat Pookkham (Thailand)
WH2 (Wheelchair)
Yuma Yamazaki (Japan)
Men's Doubles

SL3-SL4 (Standing Lower)
Daniel Bethell (England)
Bobby Griffin (England)
SU5 (Standing Lower)
Liek Hou Cheah (Malaysia)
Hairol Fozi Saaba (Malaysia)
WH1-WH2 (Wheelchair)
Kyung Hoon Kim (South Korea)
Sam Seop Lee (South Korea)

Women's Doubles

SL3-SU5 (Standing Lower・Standing Upper)
Manasi Girishchandra Joshi (Indonesia)
Qiuxia Yang (China)
SS6 (Exhibition: Short stature)
Maria Bartusz (Poland)
Rachel Choong (England)
WH1-WH2 (Wheelchair)
Sujirat Pookkham (Thailand)
Amnouy Wetwithan (Thailand)
Doubles

SS6 (Short stature)
Krysten Coombs (England)
Jack Shephard (England)
Mixed Doubles

WH1-WH2 (Wheelchair)
Jung Jun Kim (South Korea)
Seung Suk Kim (South Korea)
SL3-SU5 (Standing Lower・Standing Upper)
Wie Ou (China)
Hefang Cheng (China)
SS6 (Short Stature)
Niall Mcveigh (Ireland)
Rachel Choong (England)







Participating countries / Region list










Ireland








Israel










Italy








England










India








Australia










Netherlands








Canada










South Korea








Switzerland










Sweden








Scotland










Spain








Thailand










Chinese Taipei








Denmark










Germany








Tonga










China








Japan










New Zealand








France










Belgium








Poland










Hong Kong








Malaysia










Norway








Russia







Yonex supports Para-Badminton
http://www.yonex.co.jp/badminton/para-badminton/

Japan Para-Badminton Federation
http://jpbf.jp/