2017 Sudirman Cup Kicks Off! (May 21st-29th, 2017. Gold Coast, Australia)
The 15th world mixed team badminton championships are being held for the first time in Australia, from May 21st to 29th. The preliminary contests that will decide the teams progressing to the quarterfinals will take place until May 24th.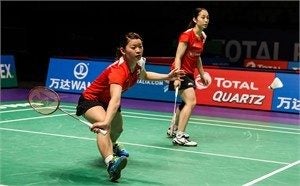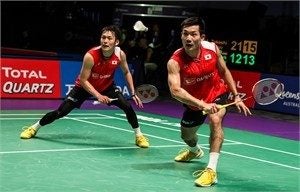 Sunday, May 21st Sudirman Cup group match results are as below:
GROUP 1A

China 4-1 Hong Kong
GROUP 2A

Vietnam 4-1 New Zealand
Canada 3-2 Scotland
GROUP 3A

New Caledonia 3-2 Guam
GROUP 1B

Korea 4-1 Russia
GROUP 3B

Sri Lanka 5-0 Fiji
Slovakia 5-0 Tahiti
You can check the results of the tournament here: 
https://bwf.tournamentsoftware.com/sport/tournament.aspx?id=9D5AE85E-5686-4389-95E6-D700293D2329
Japan has started its way to the victory by subduing Germany, and will face Malaysia on May 24th (Wednesday). The Malaysian team is led by World No. 1 
Lee Chong Wei
 (DUORA 10 LCW), and the 4th ranked Men's doubles pair, while Japan looks to counter with their own heavy hitters, with players like Ayaka Takahashi (
DUORA 7
), Misaki Matsutomo, and Akane Yamaguchi.
GROUP 1C

Japan 4-1 Germany
MD: Takeshi Kamura / Keigo Sonoda 21-12, 21-19 Mark Lamsfuss / Marvin Emil Seidel
WS: Nozomi Okuhara 21-10, 21-5 Yvonne Li
MS: Kenta Nishimoto 8-21, 18-21 Marc Zwiebler
WD: Ayaka Takahashi / Misaki Matsutomo 21-11, 21-6 Linda Efler / Lara Kaepplein
XD: Kenta Kazuno / Ayane Kurihara 21-17, 13-21, 21-16 Isabel Herttrich / Mark Lamsfuss
Tournament official website: 
http://www.sudirmancup.com.au/

Tournament schedule: 
https://www.badminton.or.jp/2017/sudirman/index.htm