2017 Sudirman Cup Teams Geared with Yonex's Exclusive High Tech Apparel
The 15th world mixed team badminton championships, Sudirman Cup, will be held from May 21st to 29th in Australia's Gold Coast. Yonex will be supporting many teams with its exclusive high tech gear and apparel, which allows for players to compete comfortably and stay cool under pressure.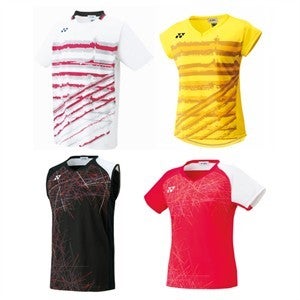 Exclusive Yonex Technology
・
VERYCOOL
 absorbs heat and sweat, fabric infused with Xylitol keeps players 3°C cooler.
・
Air-Release
 provides high ventilation, pushing out body heat while quickly circulating fresh air within the clothes.
・Outstanding 
UV Reduction
: Yonex clothing intercepts infrared radiation and approximately 92% of ultraviolet, minimizing heat build-up in clothing during play.
・
Power Sleeve
 improved range of motion (165-degree) in the sleeve provides a smoother arm movement when in action.
Discover Yonex's Tournament Style apparel 
here
.
Teams competing with Yonex's apparel
GROUP 1A
Thailand
Hong Kong
GROUP 1B
Chinese Taipei
Russia
GROUP 1C

Japan
Germany
GROUP 1D
Denmark
India
GROUP 2A

Scotland
Canada
New Zealand
GROUP 2B

United States