Martina Hingis claims her 24th and 25th Grand Slam titles
The US Open came to a close with 
Martina Hingis
 lifting the trophy for both Women's and Mixed Doubles. The Mixed Doubles final was decided with an intense match tiebreak, which was won 10-8 with Hingis setting up her partner for the finishing forehand volley. The following day, Martina cruised through the Women's Doubles Final at 6-3, 6-2, earning her 25th Grand Slam trophy.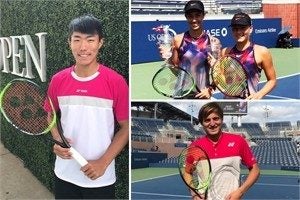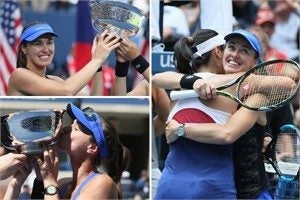 Yonex Juniors shine with the New EZONE
3 Yonex Juniors took home a US Open title, with 2 coming in as runner-ups. Armed with the new EZONE, 
Olga Danilovic
 & 
Marta Kostyuk
claimed the Girls' Doubles, while 
Yu Hsiou Hsu
 claimed the Boys' Doubles title. In singles, 
Axel Geller
 was the Boys' Singles Finalist, who also competed with the new EZONE.
*Photo: (Left:
Yu Hsiou Hsu, Upper right: Olga Danilovic & Marta Kostyuk, Bottom right:
Axel Geller)

Women's Doubles Final
Martina Hingis (EZONE DR 100, POLYTOUR FIRE 125 / POLYTOUR PRO 125, POWER CUSHION ECLIPSION L) (SUI) / Yung-Jan Chan (TPE) [2]
6-3, 6-2
Lucie Hradecka (CZE) / Katerina Siniakova (CZE) [7]
Mixed Doubles Final
Martina Hingis
(
EZONE DR 100
, 
POLYTOUR FIRE 125
 / 
POLYTOUR PRO 125
, 
POWER CUSHION ECLIPSION L
) (SUI) / Jamie Murray (GBR)
6-3, 2-6, [10-8]
Hao-Ching Chan (TPE) / Shuai Zhang (CHN)
Boys' Singles Final
Yibing Wu (CHN) [2]
6-4, 6-4
Axel Geller
 (
EZONE 98
, 
POLYTOUR PRO 125
) (ARG) [1]
Boys' Doubles Final

Yu Hsiou Hsu (EZONE 98, POLYTOUR FIRE 125, POWER CUSHION ECLIPSION, Yonex Wear) (TPE) [2] / Yibing Wu (CHN) [1]
6-4, 5-7, [11-9]
Toru Horie (JPN) / Yuta Shimizu (JPN)
Girls' Doubles Final
Olga Danilovic
 (
EZONE 100
, 
POLYTOUR SPIN
 / 
POLYTOUR PRO 125
) (SRB) / 
Marta Kostyuk
 (
VCORE SV 98
, 
POLYTOUR FIRE 120
) (UKR) [1]
6-1, 7-5
Lea Boskovic
 (
EZONE 100
, 
POLYTOUR PRO 125
, 
POWER CUSHION ECLIPSION L
, 
Yonex Wear
) (CRO) / Xiyu Wang (CHN)
Tournament official website:
http://www.usopen.org/index.html