Flushing Meadows, NY – 
Day 7
Anastasija Sevastova 
(
EZONE 100 / POLYTOUR PRO 125 / New York Collection / ECLIPSION2
) has won 11 Grand Slam matches combined in her career outside of the U.S. Open. On Sunday in New York, Sevastova won her 12th
career match at the year's fourth major to advance to the quarterfinals for the third straight year.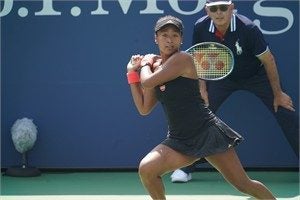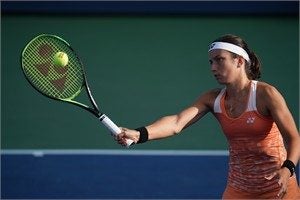 "I don't know how (I've done so well at the U.S. Open)," said Sevastova after defeating [7] Elina Svitolina, who is the highest-ranked player she has beat this year. "There's a pattern maybe, because some tournaments I always play (well).
Sevastova won the first set but quickly lost all of her momentum in the second after Svitolina found her range. After taking a bathroom break before the third set, Sevastova was able to find that same belief from her two previous trips to Flushing Meadows and only lost six points in the third set en route to a 6-3, 1-6, 6-0 victory.
In her next match, Sevastova will face a familiar quarterfinal opponent in American Sloane Stephens, who knocked her out of last year's U.S. Open before being crowned champion two matches later.
Day 8
Naomi Osaka
 (
EZONE 98 / POLYTOUR PRO 125 / REXIS 130
) was looking to end Aryna Sabalenka's eight match winning streak on Labor Day in the newly renovated Louis Armstrong Stadium. The two 20-year-olds were both playing in their first U.S. Open fourth round.
Osaka was able to strike first with a service break at 2-2 in the opening set. She continued her dominant serving and broke Sabalenka again to win the first set 6-3. However, Sabalenka was determined to fight back. After losing the first game of the second set, she reeled off five straight games to take a commanding 5-1 lead and ultimately won the set 6-2.
This meant Osaka was forced to play her first three-set match of the tournament in hot and humid conditions. The pair traded breaks early in the final set, but Osaka was able to keep her nerves in check after blowing three match points and a 0-40 lead at 4-5. After saving a game point to even the match at five games all, Osaka closed out the match with a 6-3, 2-6, 6-4 victory to advance to her first-career Grand Slam quarterfinal. 
"I've always dreamed of playing here and going to the quarterfinals and further," Osaka told the media, during her post-match press conference "So I'm just glad I could do one of my goals."
Osaka will look to achieve another goal when she plays Lesia Tsurenko on Wednesday for a spot in the semifinals. 
For more information, please visit 
usopen.org
.
Check out who's moving on to the quarterfinals from #TeamYonex:
Bolded 
names indicate Team Yonex players.
Women
[19] Anastasija Sevastova (LAT) 
def. [7] Elina Svitolina (UKR), 6-3, 1-6, 6-0
[20] Naomi Osaka (JPN) 
def. [26] Aryna Sabalenka (BLR), 6-3, 2-6, 6-4