LONDON — 
Going into Saturday's final, 
Angelique Kerber 
(VCORE 
PROTOTYPE / POLYTOUR FIRE 125
) knew she needed to play her best tennis against 23-time Grand Slam Champion Serena Williams (USA). 
With the odds in Williams' favor, Kerber was looking to accomplish a finals' feat that was rare against the 36-year-old American. Entering the championship match, only one player had defeated Williams in more than one Grand Slam final - her sister, Venus. Kerber was looking to match that mark after already defeating Williams in the 2016 Australian Open final.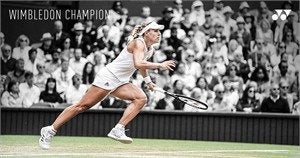 Kerber showed no signs of nerves early on and jumped out to a 2-0, breaking Williams to begin the match. However, Williams settled down and relied on her powerful groundstrokes to get back on serve at 2-2 and was able to record her first lead of the match with a 125mph first serve ace.
Weathering the storm, Kerber stayed calm and collected. The German then flashed some of her own power in the next game, hitting two of her 11 winners and remained consistent to take the first set 6-3.
"I was trying to stay on my side of the court," said Kerber. "Staying a little bit cool, not [showing] too much emotion."
In a match that featured opposite game styles, Kerber displayed remarkable defense and relied on her serve, which was something that was a deciding factor in the end. To begin the second set, the pair held serve for the first five games until Kerber launched a forehand down-the-line at 2-3, breaking Serena for the fourth and final time to lead 4-2.
Just as the match eclipsed the one-hour mark, Kerber earned her first match point at 6-3, 5-3, and that's all she needed. Angelique Kerber, your 2018 Wimbledon Champion.
"This is just amazing. I cannot describe this feeling because when I was a kid I was always dreaming for this moment," said Kerber, who is now one Roland Garros championship away from the career slam. "To win Wimbledon, it's something really special."
Kerber, who only committed five unforced errors the entire match, is the first German to raise the Ladies' Singles Trophy at Wimbledon since Steffi Graff in 1996.