One of a stringer's responsibilities is to know the right racquet for the right string that suits the right player. We sat down with three of our Yonex Stringing Team members to talk about their recommended racquet and string combinations.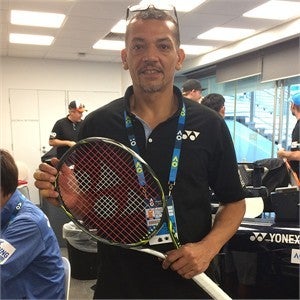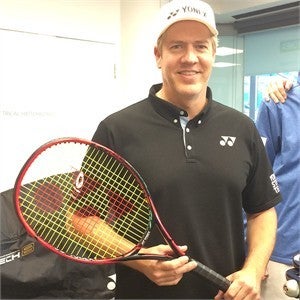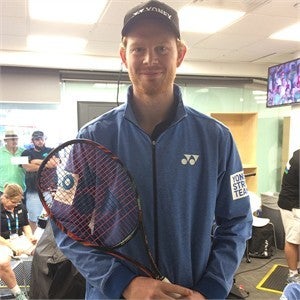 Thomas Stilwell
recommends
VCORE Duel G 97
racquet with
POLYTOUR FIRE 125
string.
"The
VCORE Duel G
offers plenty of power from the back of the court without sacrificing on precision. I find that this goes hand-in-hand with the firm feel given by the POLYTOUR FIRE. It also offers plenty of snapback, creating even more spin so you don't have to worry about over hitting."
Jim Downes
recommends
VCORE SV 98
racquet with
POLYTOUR PRO 125
string.
"The flexible carbon material in the upper portion of the
VCORE SV
frame results in extra ball pocketing, translating into stringbed action on the ball. In addition, the New Aero Fins in the frame top make the racquet more maneuverable, and the large ISOMETRIC sweet spot is greatly appreciated. Since stiffness is slightly above average, I would recommend a softer poly for a balanced feel such as Yonex's
POLYTOUR PRO 125
–one of the softest and preferred polys on the market."
Mike Emenako
recommends
EZONE DR 98
racquet with 
POLYTOUR FIRE 125
string.
"The 
EZONE DR 98
definitely has the ability to step up your game, providing extra pop without compromising control and stability. My choice would be to string it up with the POLYTOUR FIRE, which adds an extra bit of control on the ball and fits the EZONE DR 98 perfectly. I especially like the spin potential it and the direct feedback, meaning the player is always in full control and fully aware of what is happening to the ball. I recommend this combo to many players, and have always gotten surprised, positive reactions. I personally suggest stringing at tensions between 51lbs and 55lbs, depending on the gauge."