Award season continues, and Yonex tennis gear continues to earn high praise in various publications.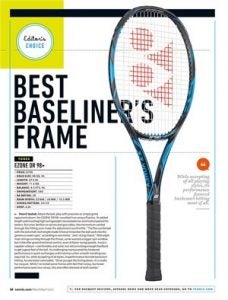 Praise for the EZONE DR 98+
This time American 
Tennis Magazine 
gave the Editor's Choice Award for "Best Baseliner's Frame" to the EZONE DR 98+ in the magazine's Racquet Guide, found in the March/April issue. Testers praised its high performance and versatility, as well as its exceptional precision, even at faster swing speeds. A reviewer stated, "while I've tested some frames with feel that I enjoy, but lesser performance (and vice-versa), this one offers the best of both worlds."
High-ranking players like 
Nick Kyrgios
(
EZONE DR 98
, 
POLYTOUR PRO 120
) and 
CoCo Vandeweghe
(
EZONE DR 98
) compete using the 
EZONE DR series
. Crowd-pleasing Australian youngster Nick earned three titles in Marseille, Atlanta and Tokyo in 2016, while CoCo was crowned champion at the 2016 Ricoh Open. The EZONE DR is the world's first tennis racquet to feature premium grade NANOMETRIC DR carbon graphite utilized in the frame. Comfortable and solid, it boasts a great dynamic power, thanks to its increased flex and repulsion plus a larger sweet spot.
The EZONE DR 98+ (27.5 in extended length version) will launch in April, along with the EZONE DR 100+, VCORE SV 98+, and VCORE SV 100+.
Accolades for Yonex Gear
This issue of Tennis Magazine also featured a review of the 
VCORE SV 100+
. The racquet was praised as stiff yet comfortable, providing enhanced swing speed and impressive power. "Twice I managed to get into love-40 holes, then came back to win the game―once winning five points in a row, all off of heavy first serves," commented one tester.
Angelique Kerber
 (
VCORE SV 100
, 
POLYTOUR FIRE 120
)
, 
Caroline Garcia
(
VCORE SV 100
, Yonex String), and
Leander Paes
(
VCORE SV 100
, 
POLYTOUR SPIN
, 
POWER CUSHION ECLIPSION
)
all compete using the 
VCORE SV
series.
Along with looking at racquets, the magazine also took a look at Yonex strings. The 
POLYTOUR AIR 125
 was praised for its shock absorption and repulsion, as well as its combination of comfort and power with the control and durability of polyester. There was also a quote from Nick about his 
POLYTOUR PRO 120
 strings, "They suit my game, so I'm nice and aggressive. I can create a lot of spin and at the same time my string allows me to have a lot of control."