Is watching the Australian Open getting you in the mood to hit the court yourself? If that's the case, Melbourne has you covered with a number of tennis specialty shops in the area.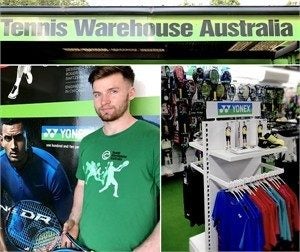 We sat down with Cathleen Fry from Tennis Warehouse Australia for a short chat about her store and what it has to offer.
Yonex:
When did you open Tennis Warehouse Australia and what were your motivations for opening a tennis store?
Tennis Warehouse Australia:
We opened Tennis Warehouse Australia in 2004. We decided to open a tennis store because we really loved the sport. Also, at the time there weren't many tennis retailers in Australia, so we thought we would be able to create a place for locals to buy all their tennis gear.
Y:
What are some of the best-selling Yonex racquets in the store?
TWA:
In the past, we always found
Lleyton Hewitt's
racquets to be really popular. Lately
Nick Kyrgios'
EZONE DR 98
is a great seller.
Y:
What makes Tennis Warehouse Australia unique?
TWA:
We have a large hitting area where you can try all the racquets before buying them. Our website also has extensive information on the products, so you can research them to know what fits you best. We try and offer our customers a great range of products so they can find everything they need for tennis in one location.
Y:
What are the day-to-day responsibilities running the shop?
TWA:
Purchasing, website maintenance, advertising, sales - anything that needs to be done really! We have a great staff at TWA and we all enjoy working together to keep all our products up to date.
Y:
Who are your favorite Yonex players?
TWA:
Lleyton Hewitt is of course a legend, and we really like Daria Gavrilova as of late!