Yonex Co., Ltd. is proud to announce the launch of the EZONE CB702 forged iron, a new addition to the forged iron series manufactured in Japan. This new forging offers the furthest distance in the company's history of irons and is loved by top golfers. The EZONE CB702 will be available from March 26th 2021.
The EZONE CB702 Forged Iron features a new forged face manufactured using Mighty Maraging Steel. Approximately 20% stronger than standard maraging steel, Mighty Maraging Steel offers superior rebound performance, resulting in overwhelming initial ball velocity. It produces the furthest carry distance in the series history. In addition, the soft-iron forging of the head and the G-BRID (Graphite Hybrid) construction suppress vibration and improves the softness of the ball strile, resulting in a comfortable shot feel.
The REXIS KAIZA MASS shaft is equipped with a new dimension of graphite, Namd*, from the tip to the middle of the shaft, which produces a strong flex and rapid recovery. The shaft is designed to increase the initial speed of the ball and make it easier to launch, while the shaft structure is designed to flex throughout, increasing not only distance but also ease of swing and control.
* Namd is a technology developed by Nitta Corporation for uniformly compounding carbon nanotubes into graphite fibers.
INNOVATION
1. Mighty Maraging Steel Face
The L-shaped forged face is made of Mighty Maraging Steel, which is stiff yet elongated and realizes high repulsive performance and overwhelming initial ball velocity.
| | |
| --- | --- |
| | |
| EZONE CB702 Forged Iron Face | The L-shaped forged Face |
2. Soft-iron forged head + G-BRID (Graphite Hybrid)
The result of the soft iron head and G-BRID (Graphite hybrid) structure, is reduced vibration and improved ball strike softness.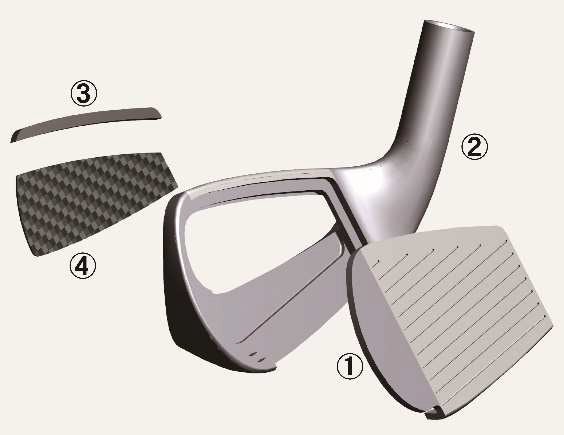 EZONE CB702 Forged Iron Head
4 Materials
1. Mighty Maraging Steel Face
2. S45C Soft-iron forged body
3. Graphite composite vibration control resin
4. Graphite nameplate
3. Namd
A new generation carbon graphite is located throughout the kick-point of the shaft. This provides a greater flex and snap-back, for a comfortable hitting experience with increased head speed translating into those valuable extra yards. The M40X carbon graphite at the shaft tip increases both strength and elasticity, ensuring the powerful energy from the swing is redirected back into the ball strike.