Two of the newest members of Team Yonex, Indonesian men's doubles pair
Marcus Fernaldi Gideon 
(
VOLTRIC 70 E-tune
, 
POWER CUSHION 65
) and 
Kevin Sanjaya Sukamuljo
(
ARCSABER 11
, 
POWER CUSHION AERUS 2 MENS
) triumphed over their Chinese rivals to win their first title at the tournament. Only weeks before the tournament began, the newly ranked No.1 pair made the switch to Yonex's
Voltric 70 E-tune
and
Arcsaber 11
racquets.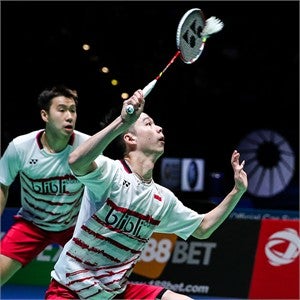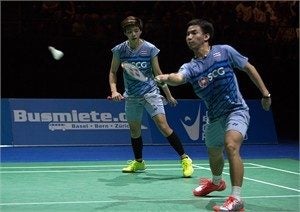 Gideon's Voltric 70 E-tune features a new
TRI-VOLTAGE SYSTEM
which successfully combines the contrasting characteristics of exceptional power and great handling. Yonex developed a racquet that achieves the combination of heavy smashes and speedy racquet handling.
Sukamuljo's Arcsaber 11 features
NEO CS CARBON NANOTUBE
and
SONIC METAL
which provides added grip to the shuttlecock and increases one's ability to deliver high repulsion, rapid-fire returns.
Gideon and Sukamuljo had a great week at the world renowned Yonex All England tournament with their new Yonex racquets allowing them to win all but one of their matches in straight games. The No.5 seeded Indonesians faced the No.6 Chinese pair of Li Junhui and Liu Yuchen in the pivotal final match, where the Yonex players and their powerful and speedy Voltric and Arcsaber racquets proved to dominate.
Read more about the final matches of the 2017 Yonex All England
here
.