Yonex Co., Ltd. has combined their famous DUORA 10 badminton racquet, designed for heavy hitters, with a lighter frame and a softer hitting feel to create the all-new DUORA 10 LT, to see worldwide release in the first half of June 2018.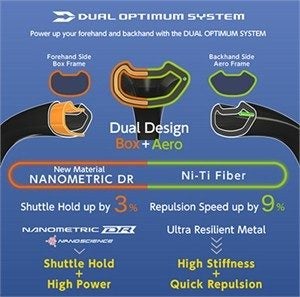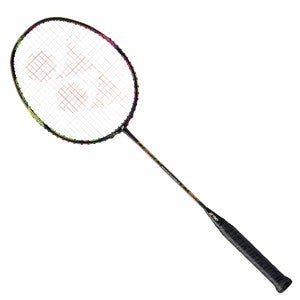 The DUORA 10 is well-known for its uniquely constructed frame, which combines a front designed for powerful smashes with a back built specially for drives, allowing heavy hitters to make quality shots from all over the court. Some of the world's top players have won the highest levels of competition with the DUORA 10, such as Kamilla Rytter Juhl of Denmark.
In response to many women who expressed their interest in trying the DUORA 10 but were most concerned with weight and shot feeling, the DUORA 10 LT uses the shock-absorbing material "VIBSLAYER CARBON" to reduce vibration to the wrist and elbow while maintaining the resilience of the frame that the original is well known for. The 10 LT is also lighter and more maneuverable at 83g (4U) compared to 88g (3U) for the 10.
Aggressive performance, combined with a softer touch and increased ease of use from a lighter frame weight, is certainly not limited to women. A broad range of players, including juniors and seniors, will be able to enjoy the DUORA 10 LT.
INNOVATION
DUAL OPTIMUM SYSTEM
The DUORA series' cutting-edge technology places two unique frame shapes into one revolutionary racquet — combining alternating box and aero-shaped structures on either side of the racquet to command the court with powerful forehands and equally fast backhands. Incorporating the carbon graphite material NANOMETRIC DR, DUORA racquets are afforded firm shuttle hold and high repulsion.
The DUORA 10 LT also incorporates a nickel-titanium fiber on the back side of the frame, which helps the frame maintain its shape and rigidity.
*NANOMETRIC material applies the NANOALLOYTM Technology of Toray Industries, Inc.
VIBSLAYER CARBON
"VIBSLAYER CARBON" material is utilized throughout the entire frame, combining shock absorption with maximum power. Manufactured with ultra-thin layers of shock-absorbing material between layers of carbon, players experience the same level of repulsion power generated by normal carbon with greatly reduced shock impact, cutting down on fatigue and stress on the body.
PRODUCT SUMMARY




Materials





Frame: H.M. Graphite, NANOMETRIC DR, Nickel-Titanium Fiber, VIBSLAYER CARBON






Shaft: H.M. Graphite, NANOMETRIC

New Built-In T-Joint







Color


Pink/Yellow




Size


4U 19-26lbs




Release Date


First half of June 2018




Made in


Japan




DUORA 10 LT product page