Yonex Co., Ltd. is proud to announce the launch of the new "EZONE CB 501," a forged iron series for intermediate to advanced golfers seeking maximum feel and playability. The EZONE CB 501 series, made at Yonex's Niigata Manufacturing Headquarters in Japan, are soft, forged irons developed to surpass the excellent feel and high, distant trajectory
[AY1]
 of the N1-CB Iron series, in use by the 2016 Japan Golf Tour Money List Leader and endorsed by multiple top professionals.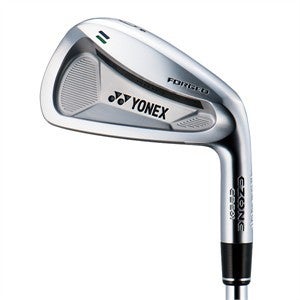 Tour-proven "G-BRID Technology (Graphite Hybrid)" crafted into the cavity creates a softer hitting feel at impact by suppressing vibrations, while also producing an optimal lower and deeper center of gravity. The new Vacuum Heat Treatment
[1]
 manufacturing technique further enhances the super soft feel by approximately 20% when compared to traditional forgings, for the control and feel sought by professionals and advanced players alike. The release of these irons completes a lineup of three types of Graphite Hybrid Forged Irons (EZONE CB 501, EZONE CB 301, N1-MB) designed to meet the performance demands of professionals and intermediate to advanced players.
INNOVATION
1.     G-BRID (Graphite Hybrid) Structure: Improved Ball Strike Feel and a Lower, Deeper Center of Gravity
By filling the cavity with a graphite dampening material (G-BRID), unwanted vibrations are reduced for an improved ball-striking feel. It also produces a lower and deeper center of gravity, increasing the size of the sweet area for improved playability.
2.     Vacuum Heat Treatment[2]: New manufacturing technique for improved feel
The new Vacuum Heat Treatment manufacturing technique makes the forging approximately 20% softer than other forgings for maximum ball control and a super soft feel preferred by professionals and advanced players.
PRODUCT SUMMARY
Head material · Manufacturing method /
Body: Forged S25C Steel + Graphite Composite
Shaft: N.S.PRO MODUS3 SYSTEM3 TOUR125
Grip: Tour Velvet (with YONEX Logo)

Made in Japan
*Graphite Shafts for intermediate and advanced players (REXIS KAIZA Xi) can be custom-ordered. Please inquire for details.
| | | | | | | | | |
| --- | --- | --- | --- | --- | --- | --- | --- | --- |
| Club | 3 | 4 | 5 | 6 | 7 | 8 | 9 | PW |
| Loft (°) | 20 | 22 | 25 | 28 | 32 | 36 | 41 | 46 |
| Lie (°) | 59.5 | 60 | 60.5 | 61 | 61.5 | 62 | 62.5 | 63 |
| Bouunce (°) | 4.0 | 4.0 | 4.5 | 4.5 | 4.5 | 5.0 | 5.5 | 5.5 |
| Face Progressoion (mm) | 1 | 2 | 3 | 4 | 5 | 6 | 7 | 8 |
| Shaft Length (inches) | 39 | 38.5 | 38 | 37.5 | 37 | 36.5 | 36 | 35.5 |
| Swing Weight | D1 | D1 | D1 | D1 | D1 | D1 | D1 | D1 |
| | |
| --- | --- |
| Shaft | N.S.PRO MODUS3 TOUR 105 |
| Flex | S |
| Total Weight | 407 |
| Shaft Weight | 106.5 |
| Torque (°) | 1.7 |