Wuhan, China — The Asia Championships 2018 concluded on April 29, and in men's singles, Kento Momota (JPN) served up a stunning performance with the ASTROX 88 D.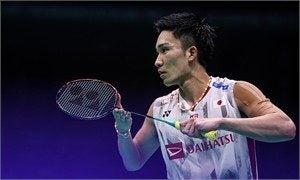 Momota defeated Lee Chong Wei (MAS) in the semifinals, and with seven consecutive points in the final game, toppled World No. 3 Chen Long (CHN) in straight sets (21-17, 21-13). Momota battled through top player after top player to claim his first tournament victory.
The ASTROX 88 was also featured in women's doubles, where Yuki Fukushima and Sayaka Hirota (JPN) also earned their first tournament victory in a closely fought, 80-plus-minute match against fellow countrywomen Misaki Matsumoto and Ayaka Takahashi.
At the TOTAL Thomas & Uber Cup Finals 2018, beginning on the 20th of this month, the Japanese athletes will seek to claim their first win since 2014 for the men and 1981 for the women.
*Rankings as of 4/26/18
Kento Momota: 
ASTROX 88 D
, 
AEROBITE
, 
POWER CUSHION 65 Z MEN
Yuki Fukushima: 
ASTROX 88 D
, 
BG80
, 
POWER CUSHION AERUS 2 LADIES
Sayaka Hirota: 
ASTROX 88 S
, 
NANOGY 95
, 
POWER CUSHION 65 Z LADIES
Full Results
ASTROX 88 mini-site