Steffi Schwarz-Eifler hails from Germany and is stringing at the Australian Open for the first time—her first time at a Grand Slam. She runs her own dedicated stringing service in Germany, covering tennis, badminton and squash. She has the distinction of being one of the few female stringers in the predominantly male stringing community.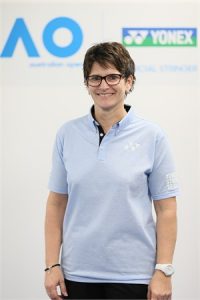 How did you become a stringer?
I started in 1991 at a tennis club in Düsseldorf called Rochusclub. I was invited to help with the stringing at tournaments there. I learned my skills by visiting stringing seminars, and learned all the basics as well as the more specialized skills that I use today.
There doesn't seem to be many female stringers—is this true?
It would seem that all over the world Mark Goodman's wife Karen and myself are the only women stringers. I really think more women should join us and give stringing a try!
What are the key factors of good stringing?
Simply use the appropriate string that suits the players' game, and string the racquet on a high quality machine.
How do you feel about this year's team?
It's a superb team! All the members are very experienced tournament stringers who are all very focused and also extremely quick.
Any advice for amateur players about the importance of stringing?
If possible, use the service of professional stringer who works with high quality machines and strings.
Find a professional Yonex stringer near YOU at the official Yonex Stringing Team website.