Yonex 
N1-CB
Forged Irons
have received the Japan Golf Digest Club of the Year Award in the iron division. These irons are precision made at the Yonex Manufacturing Headquarters in Japan, and have gained great popularity since going on sale in March 2015.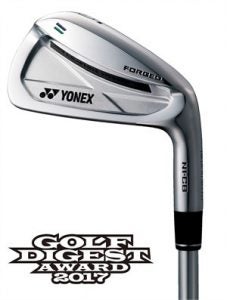 The main characteristic of the 
N1-CB
 and other Yonex forged irons is a unique Graphite Hybrid Insert placed behind the club face. This insert dampens unwanted vibrations, while also providing a lower and deeper CG. This provides increased feel, comfort and forgiveness at impact, ultimately offering improved spin control.
Running since 1997, the clubs that receive the Club of the Year Award are chosen based on reader votes as well as evaluations from the magazine's executive committee. This marks the second time a Yonex club has received this great honor; the first time being in 2006.
"Yuta Ikeda, who is not bound to a club contract, selected the Yonex N1-CB as his iron of choice, becoming the 2016 Japan Golf Tour Money List Leader," specifies the magazine as the reason for the club's award. Its high performance and reliability were also very positively evaluated by the magazine's readers.
"I started using Yonex forged irons (N1-CB) because they do a good job of getting the ball airborne, and offer great spin control," spoke Yuta, praising the clubs. The same irons have also won the trust of Yonex golfers such as 
Hyo-Joo Kim
 and 
Sun-Ju Ahn
.
All About N1-CB Forged Irons
Improved Feel at Impact Made Possible with Graphite Hybrid Insert
Yonex N1-CB Forged Irons feature a Graphite Hybrid Insert behind the face, dampening unwanted vibrations as well as providing a lower and deeper CG. This offers increased feel, comfort and forgiveness at impact.
Vibration Dampening Performance Comparison
3D Sole for a Smoother Swing
The shaped 3D Sole maintains club head speed and helps to get the ball airborne whatever the lie.