The official launch events for Yonex's new VCORE PRO racquet and POLYTOUR STRIKE strings were held in California on March 5
th
and 6
th
, before the main draw of the 2018 BNP Paribas Open. Of the six star athletes that participated, Hyeon Chung (Korea) and Caroline Garcia (France) kicked things off with a short pro-am match. Over the course of two days, more than 230 fans had the chance to meet and mingle with the players.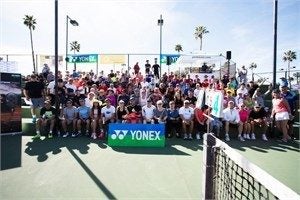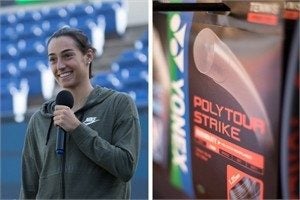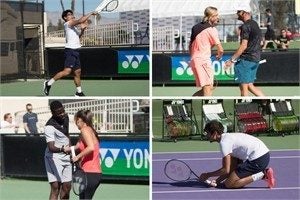 Garcia, who has been using the new POLYTOUR STRIKE strings, participated in the global launch event on the 5th. "When I changed to Yonex, I changed the strings and it really helped me, gave me power and it's very important to me and for my racket," commented the World No. 7 regarding her switch to Yonex after her best career season.
During the demo day, participants were able to try out POLYTOUR STRIKE new addition to the popular POLYTOUR series. Fans praised on the new strings, "the sound and feel of the ball gave me overwhelming confidence in my shots. Attacking felt so easy."
On the 6th, Hyeon Chung, Steve Johnson (USA), Denis Shapovalov (Canada), Frances Tiafoe (USA) and Pierre-Hugues Herbert (France) were at the VCORE PRO launch event. Attendees witnessed Herbert and Tiafoe face off against Shapovalov and Johnson in a dream doubles match. There was big excitement from fans as Tiafoe hit consecutive between the legs shots. The cheerful exhibitions and talks given by the players made for an outstanding atmosphere.
At the subsequent demo, fans who trialed the new racquet exclaimed, "this pro racquet model gave me depth and aggressiveness on my shots. I could direct my shots so easily!" While another gushed over the new look: "the matte coloring is chic and so cool."
The highly rated VCORE PRO and POLYTOUR STRIKE are available now.