Yonex is proud to introduce the new
POWER CUSHION 03
badminton shoes for the 2017 season. The new shoes are aimed at advanced players, letting them achieve quick, multi-directional footwork while providing a snug fit. The
POWER CUSHION 03
launches worldwide in March.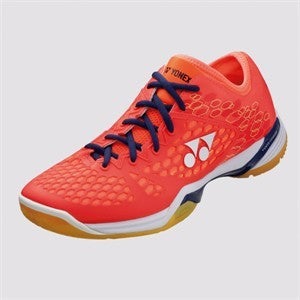 The shoe features the Yonex "Durable Skin" material used in the shoes' upper. The material is applied across the upper at varying degrees of stiffness at different areas of the foot, providing exceptional stability.
The shoe also features the new "Inner Bootie" design, which fuses the tongue with the rest of the shoe, removing openings and overlaps found in traditional shoe structures. As a result, players are afforded a very snug fit around the foot.
POWER CUSHION 03 Tech
Durable Skin & TPU Support
The strong Durable Skin material is applied at varying levels of stiffness in key areas of the forefoot, providing both stable support and soft comfort. Meanwhile, TPU Support technology elongates the TPU section, reinforcing feet during quick, harsh lateral movements.
Inner Bootie
The new "Inner Bootie" design connects the tongue with the shoe opening, reducing overlapping layers for a more snug fit.
3-Layer Power Cushion
Hard top and bottom layers absorb 30% more shock than our original Power Cushion and provide 5% more repulsion for enhanced transfer of energy. The soft middle layer quickly returns to its original shape after receiving a shock load, converting the shock energy into power for fast and light footwork.