On November 7, 2017, the world's top 21-and-under singles players took to the court for the inaugural Next Gen ATP Finals in Milan. Team Yonex players Denis Shapovalov (VCORE SV 95, Yonex Poly String) and Hyeon Chung (VCORE Duel G 97) rounded out the eight-man field competing in a round-robin format this week.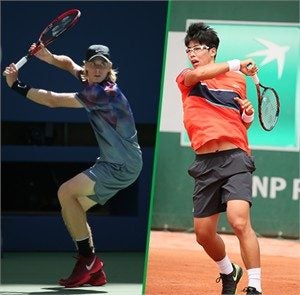 The tournament features innovative rules such as a shortened score format, serve clock, player coaching, and electronic line calling for this fan-friendly event. Group A action began Tuesday with third-seeded Shapovalov and sixth-seeded Chung taking the court against each other in the first round.
Shapovalov, who is the youngest man in the field at 18-years-old, used an early break to a quick one-set lead. However, Chung found his consistency in the second set and took the next two sets 4-3.
Chung kept the momentum on his side in the fourth set where he broke Shapovalov for the first time en route to a 1-4, 4-3(5), 4-3(4), 4-1 victory.
In the second and final round of group play, Chung faced top-seeded Andrey Rublev of Russia on Wednesday. The South Korean only dropped one game in the first two sets and scored his second upset of the tournament in just over an hour, 4-0, 4-1, 4-3(1), becoming the first semifinalist of the tournament.
Follow
Yonex on social media for the latest #NextGenATP Finals updates.