YONEX CO., LTD. has signed a tennis equipment usage contract with Shingo Kunieda, the 46-time (24 times singles and 22 times doubles) Grand Slam Wheelchair Champion. He will make his debut using the new Yonex EZONE racquet at the Wheelchair Tennis Masters in November. Shingo Kunieda started competing competitively at the age of 17 and after a few years on tour soon found himself as World No.1 in the rankings in 2006. The following year in 2007, Shingo became the first player in history to complete the Calendar Year Grand Slam in Men's Wheelchair Singles. Since then, he has completed the feat an additional 4 times, in 2009, 2010, 2014 and 2015, truly cementing himself as the world's best in wheelchair tennis.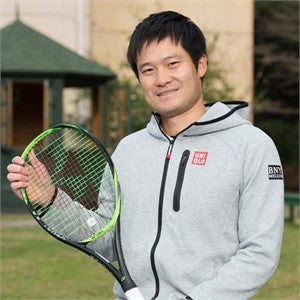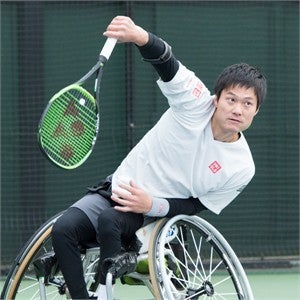 "As the playing style in wheelchair tennis has become faster and faster, it was important for me to find a racquet that had both good control and spin to adapt to the faster rallies. I was fortunate to have the chance to test and work with Yonex in finding a racquet that will help boost my game. Yonex's signature Isometric shape gives the racquet a wide sweet spot, which gives me better feeland control to return the ball from any position. And, the additional power is excellent! These reasons made my decision to use the Yonex EZONE racquet an easy one. My goal is to regain the World No.1 spot again with the help of Yonex's high performing Japan made racquet and string" commented Shingo Kunieda.
Since 2004, Yonex has been committed to expanding and developing wheelchair tennis. Yonex has been clothing sponsor for the Japan National team and main sponsor at various championships. Through our "innovative technology" and "high quality" Japan made products, Yonex is proud to support Shingo in his quest to regain his No. 1 spot as well as continuing the support and development of wheelchair tennis.
※1 In 2007, Grand Slam events were: Australian Open, Japan Open, British Open and US Open. After rule changes, from 2009 Grand Slam events were: Australian Open, French Open, British and US Open
SHINGO KUNIEDA Profile
Birth: February 21, 1984 (33 years old)
Nationality: Japan
Height: 173cm
Plays: Right-handed
[Career Highlights]
●Wheelchair Grand Slam Singles : 24 titles
Australian Open : 8 times(2007-2011, 2013-2015)
Japan Open: 3 times(2006-2008)
British Open: 2 times(2007, 2008)
US Wheelchair: 2 times(2006, 2007)
French Open: 4 times(2009, 2010, 2014, 2015)
US Open: 5 times(2009-2011, 2014, 2015)
Year Grand Slam: 8 times(2007, 2009, 2010, 2014, 2015)
●Wheelchair Grand Slam Doubles : 22 titles
[Equipment]
Racquet: 
EZONE 98
Strings・Bag・Accessory・Ball
[Contract]
Multi-year
[Best shot]
Down-the-line forehand. Skillful attacking style.
[Comments]
"Yonex's signature Isometric shape gives the racquet a wide sweet spot, which gives me better feel and control to return the ball from any position. And, the additional power is excellent! These reasons made my decision to use the Yonex EZONE racquet an easy one. My goal is to regain the World No.1 spot again with the help of my Yonex racquet."