The March 2017 issue of French tennis magazine TennisAddict published its annual tennis shoe review. The review looked at 14 all-court shoes in the areas of cushioning, stability, comfort and durability. The shoes were tested by a panel of players, and underwent lab tests in facilities such as CTC Groupe's physical and biomechanical testing center in Lyon.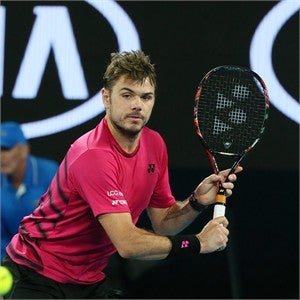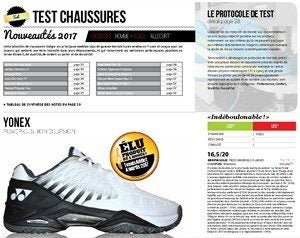 The Unbeatable POWER CUSHION ECLIPSION
This year once again saw the 
POWER CUSHION ECLIPSION
 earn top marks in the magazine's tests. This marks the sixth consecutive year that Yonex shoes are at the top of podium. The POWER CUSHION ECLIPSION received the gold medal for strong energy return, great performance, and durability.
The review highlights the improvements that this year's new design offers, namely the shoe's exceptional cushioning. Featuring the three-layer POWER CUSHION in the heel, the shoe absorbs 30% more shock and provides 5% more repulsion for enhanced transfer of energy, allowing for fast and light footwork. At the same time, the shoe boasts great stability and foot support, ideal for protecting joints and preventing injuries. The shoe received high marks for its durability, as well as in comfort, providing a perfect fit and firm support.
The POWER CUSHION ECLIPSION is the shoe of choice for World No. 3 
Stan Wawrinka
 (
VCORE Duel G 97
), who has reached the Quarterfinals of the BNP Paribas in Indian Wells.
VCORE SV: Amazing Spin and Power
The magazine also ran reviews of 20 new racquets weighing over 290 g, seeing both the 
VCORE SV 98
 and 
VCORE SV 100
 praised for their power. The 
VCORE SV series
 offers enhanced spin and accuracy thanks to its new Aero Fin Technology, which decreases air resistance by 16% for faster swing speeds. The racquet also features the innovative SV Frame, which provides increased repulsion and torque.
The VCORE SV 98 received positive comments for its balance of power and accuracy, as well as its improved spin and stability. Players like 2016 ATP Challenger Knoxville Winner 
Michael Mmoh
, 2016 ATP Challenger Nielsen Pro Tennis Championship Champion 
Yoshihito Nishioka
 (
POLYTOUR SPIN
, 
POWER CUSHION FUSIONREV2
), and 2016 Aegon International Champion 
Steve Johnson
compete with the racquet. "The VCORE SV has really great power and control," Steve comments, "I can hit a deeper ball now, and really get the edge over my opponents."
The VCORE SV 100 was commended for its remarkable power, spin, and handling. Able to hit high-trajectory shots with a lot of spin, it accommodates all styles of play. Players who compete with the racquet include two-time Grand Slam champion 
Angelique Kerber
 (
VCORE SV 100
, 
POLYTOUR FIRE 120
), 2016 Roland Garros Mixed Doubles Champion 
Leander Paes
(
VCORE SV 100
, 
POLYTOUR SPIN
, 
POWER CUSHION ECLIPSION
), and 2016 US Open Women's Doubles Finalist 
Caroline Garcia
(
VCORE SV 100
, Yonex String). "I can hit with a good mix of power and control using the VCORE SV. It gives me confidence to control rallies and lets me hit deeper", Caroline said.