The Yonex Cup Tennis Championship returns to Palos Verdes, CA.
In its 17th year, Pedro Alipio, Tournament Director and Head Pro at the Palos Verdes Tennis Club, describes this annual event as a unique tournament because of its charm, location, and how they work hard to make every player feel special.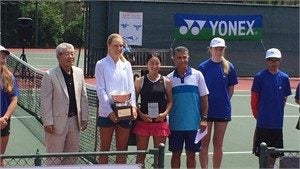 Located in a picturesque city just southwest of Los Angeles, the tournament attracts top-ranked players participating in the Open level. Last year the winners include Alessandro Ventre in men's singles, and Ashley Lahey in women's singles.
With exciting matches and a special silent auction, be sure to checkout the tournament, which runs April 19-23.
Yonex Cup Championship
April 19 - 23, 2017
USTA Tournament Website
Palos Verdes Tennis Club
3303 Via Campesina
Palos Verdes Estates, CA 90274