Yonex kicked off the 2017 Legends' Vision World Tour during the second round of this year's Yonex All England Open Badminton Championships. The Legends' Vision initiative was launched in 2015, led by badminton Legends 
Peter Gade
, 
Taufik Hidayat
, 
Lee Chong Wei
, and 
Lin Dan
. This initial press conference welcomed Peter and Taufik to the stage.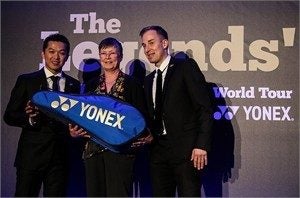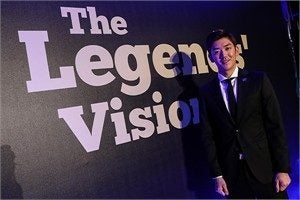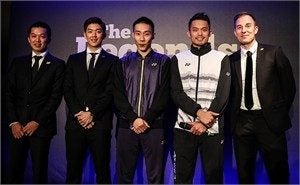 At the kick-off event, dates and locations for the three main Legends' events in 2017 were announced to great fanfare. On 
September 10th, 2017 
the Legends' Vision will touch down in Japan for the first time. The event will be held on the final day of Japan Para-Badminton International 2017 tournament with the goal of drawing more attention to the developing sport of para-badminton.
The second event of the year will be held on 
November 4th
 in Delhi, India. "With great talents such as 
Saina Nehwal
 and 
Pusarla V. Sindhu
 hailing from India, there is great potential to nurture new talent," spoke Peter. The final big Legends' event of the year will be held on 
December 3rd
 in Paris, France. Peter, coach of the French National Team, once again offered his insight regarding the choice to hold the event in the nation, "Badminton is really starting to pick up in France. I am very glad to be the coach in a country where badminton is getting popular, and doing a Legends' event will really energize the sport."
This big announcement was followed by another: the addition of Korean badminton star Lee Yong Dae to the Legends' lineup. "I cannot wait to work together with these four Legends to spread the joy of badminton across the world," commented Yong Dae at the event.
Among the proceedings, the Legends donated 1000 GBP of racquets to local schools in England, with the hope of enacting positive change in children via sport.
The very end of the event welcomed two very special guests—Lee Chong Wei and Lin Dan. While unable to attend the entirety of the event due to the tournament, the two made a surprise appearance in front of press and fans alike for some questions and a photo session.
A full video of the event can be viewed here:
https://www.facebook.com/yonex.co.uk/videos/1242976442424221/
About the Legends' Vision
The Legends' Vision is a global initiative run with the aim of transforming badminton into a major global phenomenon. Through exhibition matches and clinics aimed at young players, the Legends will spread the joy of badminton across the world. Yonex is resolute with these four Legends, offering its full and complete support to realize their vision every step of the way. With a global network of coaches and experts, Yonex offers its thorough support for these events on every level.