Yonex Co., Ltd. is proud to announce the 
ASTROX 99
, the newest racquet in the ASTROX series, which continues to gain a never-before-seen level of trust among the world's top badminton players. Targeted at advanced players, the ASTROX 99 is designed to deliver power from hit after hit. Worldwide release is scheduled for mid-September 2018.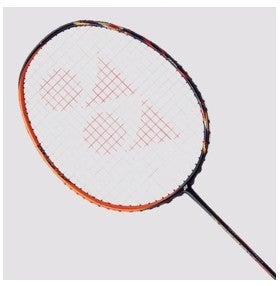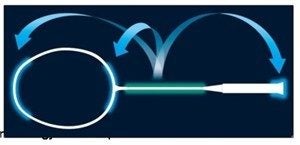 Until now, the ASTROX series has utilized next-generation graphite "
Namd
" in the shaft, which results in a large increase in the snap back speed of the shaft, producing greater smash speeds. But the ASTROX 99 has adopted Namd in the entire body of the racquet, including the frame, doubling contact time with the shuttle
*2
, resulting in an explosive shot as the racquet returns from flexed to straight at the end of the swing. Additionally, the 
Energy Boost Cap
 shape is designed to encourage even more flex in the shaft, further benefiting from the effects of the Namd graphite.
The series trademark technology, 
Rotational Generator System
, which contributes to a smooth transition from shot to shot also helps the player maximize the effects of the entire Namd body.
The design of the ASTROX 99 is inspired by the power and energy of the sun. The base of orange and black echo the sun spinning in the vast blackness of space, while red highlights recall the explosive solar flares that occur on its surface.
*1 Namd is a technology developed by Nitta Corporation to "uniformly disperse carbon nanotubes into carbon fiber composites."
*2 Based on machine test results, compared to conventional racquets
INNOVATION
New dimension graphite Namd
A world-first, new dimension graphite material, Namd, greatly improves the adhesion of the graphite fibers and resin by attaching nanomaterial directly to the graphite fiber.
In high performance racquets, it is common to combine nanomaterials with resin that connects graphite fibers, but in Namd, nanomaterials are directly adhered to the graphite fibers and resin is greatly increased. This major improvement produces a shaft that flexes and stores energy, delivering explosive force on impact with the shuttle. In the ASTROX 99, Namd has also been incorporated in the racquet frame, which helps it to "hold" the shuttle, increasing contact time and, resultingly, the speed and force with which it is expelled.
Below left: A shuttlecock hit by the ASTROX 99 reaches the target fast and penetrates deeper than when hit by a conventional racquet.
Below right: The contact with the shuttlecock is twice as long with the ASTROX 99 than with the conventional racquet, and the shuttle is ejected faster and further.
Rotational Generator System
By applying the counterbalance theory, weight is distributed throughout the grip end, frame top and the joint for maximum control. The transition to the next shot can be performed smoothly and in rapid succession.
New Cap Design "Energy Boost Cap": 
Maximizes shaft performance
The new shape allows the shaft to flex, which ensures the maximum effect of "Namd
[1]
(more flex and faster kick-back graphite material)" and stabilizes the racquet face by preventing the shaft twisting, increasing control.
PRODUCT SUMMARY






ASTROX 99




materials












H.M. Graphite frame + Namd + Nanometric + tungsten




H.M. Graphite shaft + Namd









Built-in T-Joint




color


Sunshine Orange




average weight


3U(88g)4・5・6, 4U(83g)4・5・6




release


Mid-September 2018




made in


Japan