Held for the first time in Japan! The Legends and para badminton players mesmerize a crowd of 3,200.
The Legends' Vision was held for the first time in Japan, at Machida City General Gymnasium in Tokyo on September 10, to a crowd of about 3,200 spectators. The venue was drowned in enthusiasm and excitement throughout!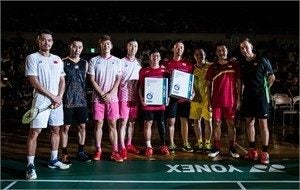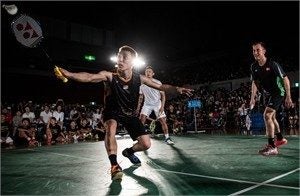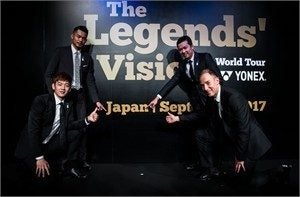 The main promotion and development activities were presided over by Peter Gade (Denmark), Lin Dan (China), Lee Chong Wei (Malaysia) and Taufik Hidayat (Indonesia), who lead world badminton. This time, Korean superstar Lee Yong Dae also joined, bringing the number of Legends to 5 for the Tokyo event.
Before The Legends' Vision took place, there was a hot contest of para players who had been playing in the HULIC DAIHATSU Japan Para-Badminton International 2017. The para players joined The Legends' Vision and played in a thrilling doubles match with the Legends. The Legends also organized a junior clinic and were assisted with the Japanese national team as part of The Legends' Vision.
There was a special 3 on 3 match including guests Rexy Mainaky (Indonesia) and Yoo Yeon Seong (Korea). Also, revisiting the intense excitement of the previous time Lee Chong Wei and Lin Dan battled so intensely, fans were watching The Legends' Vision on the edge of their seats with excitement as they fought in a 1 on 1 battle.
Speaking on behalf of the Legends, Peter Gade closed with, "I was very happy to see Japanese and Japanese fans, and it was also my goal to support para badminton. From here on I also want to make badminton more interesting and support further badminton activities." Peter backed up his words by donating the revenue from the event to strengthen and develop para badminton players through the Japan Disabled People Badminton Federation.
Participating junior athletes were touched and amazed by the event. "I did not it would ever be possible to see a game of Lee Chong Wei and Lin Dan in my neighborhood" and "His skill is obvious, but I want to become more like Peter as a person too!" were some of the feedback we received.
In the future, The Legends' Vision will be held in India and France. Yonex will continue to support the activities of the Legends.