The Legends' Vision was held in Paris, France on December 3rd, drawing a crowd of about 1,400 badminton fans, people involved in badminton, and media personnel. The venue for the event was the Salle Wagram, nearby the Paris's Arc de Triomphe. Held in a hall used for purposes including dances, orchestral concerts, and weddings, and surrounded by the uniquely resplendent ornamentation of Paris, the event took on an atmosphere that would not be possible at any other venue.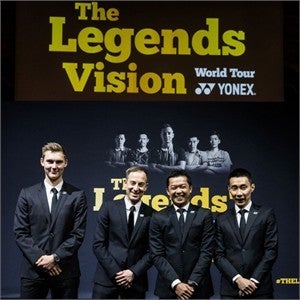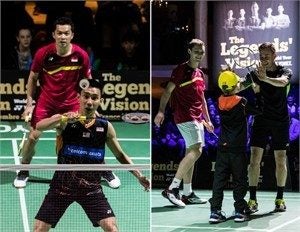 The purpose of the event, spearheaded by
Lin Dan
(China),
Lee Chong Wei
(Malaysia),
Peter Gade
(Denmark),
Taufik Hidayat
(Indonesia), and
Lee Yong Dae
(South Korea), is to promote the popularization and growth of badminton, with the aim of making it a major global sport. Peter serves as coach of the French national team, and he was unable to hide his excitement, even before the event began. Paris has also been chosen as the host city for the 2024 Summer Olympic and Paralympic, and interest in sports is climbing to new heights in the city.
Viktor Axelsen
(Denmark), the world's top-ranked player, made a guest appearance at the event, as did members of the French national team, taking the excitement at the venue to an even higher level. Local junior players with bright futures paired up with the Legends for exhibition matches. The winner of the 2017 European Junior Championships also put on a skillful display, tenaciously chasing down the shuttlecock, and picking up a few pointers from the Legends along the way.
Activity spaces were also set up at the venue, allowing visitors to test their strokes and try to hit targets. Even beginners were able to have a casual, enjoyable badminton experience while receiving advice from French national team members.
In 2017, The Legends' Vision was held in Tokyo, Japan; Mumbai, India; and Paris, France. 2018 will mark the event's fourth year, and we hope you will continue to look forward to it!
The Legends' Vision