Bangkok, Thailand –– At the TOTAL BWF Thomas & Uber Cup Finals 2018, the women from Japan decidedly reaffirmed their presence in world badminton, as they defeated Thailand in front of a raucous Bangkok crowd in 3 straight matches, all decided in straight games.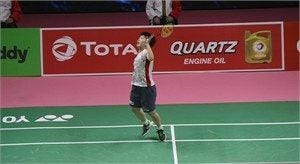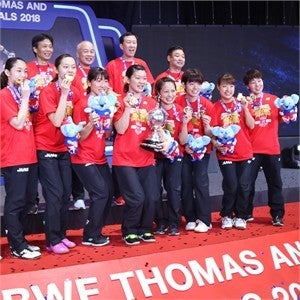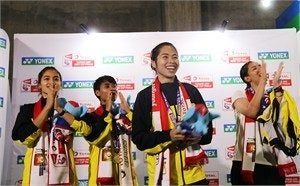 The final between Thailand and Japan began with a matchup of both team's super stars — Akane Yamaguchi (JPN) and Ratchanok Intanon (THA). Despite Intanon's best efforts, Yamaguchi eventually proved too much for her, winning 21-15, 21-19. "I was a little nervous. Ratchanok is strong from the back of the court, so I tried to keep her off-balance by varying my shots. I am happy to win this match," Yamaguchi told BWF.
Japanese pair Yuki Fukushima and Sayaka Hirota won the next doubles match 21-18, 21-12 to take a 2-0 lead, quieting the Thai crowd. When Nozomi Okuhara came to court for the third match, it proved to be a quick one, as she won 21-12, 21-9, and sealed Japan's first Uber Cup title since 1981.
Despite the final score line, Thailand played a tournament to be proud of. After pushing past Indonesia (3-2) in the quarter-finals, they stunned on Friday, upsetting team China, who has won 14 of the last 17 Uber Cup championships, with a hotly contested 3-2 victory.
Yonex is proud to support both the Japan and Thailand teams with bags and uniforms.
Akane Yamaguchi: 
ASTROX 77
Yuki Fukushima: 
ASTROX 88 D
, 
BG80
, 
POWER CUSHION AERUS 2 LADIES
Sayaka Hirota: 
ASTROX 88 S
, 
NANOGY 95
, 
POWER CUSHION 65 Z LADIES
Ratchanok Intanon: 
ASTROX 77
, 
POWER CUSHION 03 Z LADIES
Full Results