Yonex Co., Ltd. is proud to announce
Fiore
, a new series of clubs designed for female golfers with an average club head speed of 28m/s, who want to enjoy effortless golf. Including Driver, Fairway woods, Hybrids, Irons and a Putter, the new lineup will be released in late April 2018.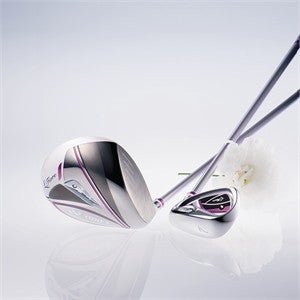 At just 243 grams, the driver falls in the ultra-lightweight class. The increased head speed allows for a light, easy ball strike, maximizing performance with minimal effort. The entire series, from driver to irons, features the octagon-shaped
Octaforce
technology, giving the clubs a lower and deeper center of gravity and high-repulsion for a higher shot trajectory and faster ball speeds. The grooves on every club face have also been optimally designed to provide stable and consistent spin control. In all aspects, the Fiore series has been specifically designed to provide female golfers with an effortlessly powerful swing.
INNOVATION
1. Octaforce

 

technology creates a higher, distance-enhancing shot trajectory
By constructing the crown and face with a network of octagonal, thin-walled areas, weight is reduced, providing a lower center of gravity and higher ball repulsion for an effortless distance enhancing trajectory.
2. A new face design was born from research into improving driving accuracy
Driver

Traditionally, a club face is polished horizontally, but the Fiore features a vertical polish, as well as a groove-less design. By avoiding being trapped by conventional wisdom, Yonex applies a vertical polish which improves shot direction and minimizes side spin.
Fairway Woods and Hybrids
Fairway woods and hybrids feature a slanted groove design that prevents grass and moisture from coming between the club face and the ball, helping to stabilize the ball flight by reducing left and right side spin for more accuracy.
Product Summary
Fiore Driver

Head construction:
Body:BF-11 Forged Titanium
Face:6AL-4V Titanium Plate
Shaft: Graphite
Made in Vietnam
Fiore Iron

Head construction: SUS630 Stainless Steel Precision Casting
Shaft: Graphite
Made in Vietnam
Fiore Putter

Head construction: SUS630 Stainless Steel Precision Casting
Made in Vietnam
Fiore Caddy Bag

CB-8853F
Made in China