The enhanced ISOMETRIC sweet spot reaches deeper into the corners of the racquet producing the largest sweet spot ever in the EZONE series. The result is a truly powerful racquet across a larger area of the string bed. Available worldwide in August 2017.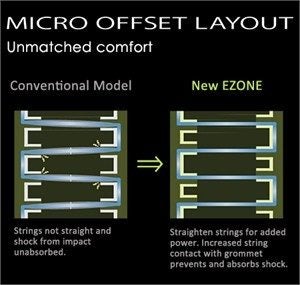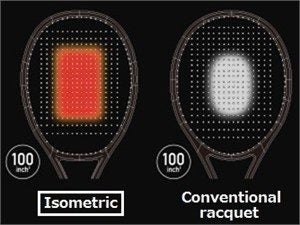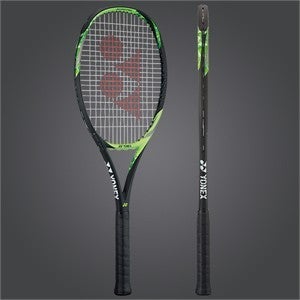 Yonex has improved on its signature ISOMETRIC technology by further expanding the main and cross strings resulting in the largest sweet spot in EZONE series history.
Currently, top tennis players around the world continue to adopt a fast tempo style played from inside the baseline, with athletes demanding more power and reliability from the upper area of the frame.
By utilizing highly stiff HYPER-MG (Hyper Modulus Graphite), Yonex has improved the flexural strength of frame top by 5%, which reduces bending and improves repulsion power. Combined with the larger sweet area, HYPER-MG allows for greater power and comfort even on difficult off-center shots.
The new EZONE lineup targets a wide range of players, from the 98 and 100 inch models for harder hitters, to a lightweight model for slower swingers and beginners, plus a junior model aimed at 6 to 11 year old players.
Learn more at the EZONE microsite.
ISOMETRIC: Enhanced sweet spot
Developed over 30 years ago, the ISOMETRIC design increases the sweet spot by 7%.* Compared to a conventional round frame, a square-shaped ISOMETRIC racquet generates a larger sweet spot by optimizing intersecting main and cross strings.
Yonex has improved the ISOMETRIC technology further by expanding the four corners of the new EZONE for longer main and cross strings in the upper frame, resulting in the largest sweet spot in the EZONE series history.
*Tested by Yonex.
HYPER-MG: Explosive Power
Embedded within the inner portion of the upper frame, HYPER-MG (Hyper Modulus Graphite) material dramatically enhances frame snapback speed, increasing repulsion power and ball speed. Upper frame flexural strength is increased by 5%.
MICRO OFFSET LAYOUT: Unmatched Comfort
Precise engineering of grommets holes provides straighter alignment of main and cross strings for more power. Greater string contact within the grommet reduces and absorbs harsh vibrations from impact for unmatched comfort.