The popular VOLTRIC series will be getting a new lightweight addition in early February:
VOLTRIC FB
.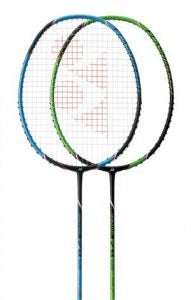 This new lightweight racquet allows for straightforward handling while maintaining the VOLTRIC series' characteristic combination of power and maneuverability via the series' signature TRI-VOLTAGE SYSTEM. Additionally, featuring the BLACK MICRO CORE material, the VOLTRIC FB provides solid feel and excellent power.
BLACK MICRO CORE: Boosted Power and Feel
Used for the first time in Yonex badminton racquets, BLACK MICRO CORE is a stiff, high-density vibration-dampening material equipped into the upper part of the VOLTRIC FB frame letting players hit with solid feeling and power.
The TRI-VOLTAGE SYSTEM: Power and Maneuverability Combined
VOLTRIC racquets get their immense power and speed from the innovative TRI-VOLTAGE SYSTEM. This system combines intelligent head weighting, frame flex and aerodynamics to generate explosive force without compromising speed or handling.
POWER
The stiff structure at the top of the frame allows the head to flex in a controlled way, holding shuttles on the string bed for longer.
AGILITY
The weight at the top of the frame and at the joint area provides great handling while maintaining head-heavy power.
The ISOMETRIC Legacy Continues
2017 marks the 25th anniversary of Yonex ISOMETRIC badminton racquets. The unique square-shaped ISOMETRIC frame design increases the intersections of main and cross strings, expanding the sweet spot to power up your game.
Save