The 2016 Yonex K & D Graphics US International Challenge gets underway next Wednesday, December 14 in Orange County, California.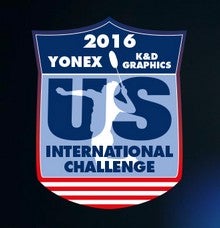 Leading Badminton players from around the world, including Team USA Olympians, will converge on the Orange County Badminton Club to compete for a $17,500 prize purse. Watch 2016 Olympian and California local Howard Shu, America's highest-ranked men's singles badminton player, in action. This is your chance to watch Shu and a large representation of past and current Team USA Olympic badminton players live on the court.
2008 Olympians
Raju Rai
Bob Malaythong
2012 Olympian
Tony Gunawan
2016 Olympians
Howard Shu
Paula Obanana and Eva Lee
Sattawat Pongnairat
Jamie Subandhi
Phillip Chew
Stop by the Yonex booth for racquets, shoes, clothing and special promotions during the tournament.
This globally recognized tournament is sanctioned by the Badminton World Federation, Badminton Pan Am, and USA Badminton. Tickets are on sale now at the Orange County Badminton Club for the four-day event.
Click
here
for tournament details and ticket information.
2016 Yonex K & D Graphics US International Challenge
December 14 - 18, 2016
Orange County Badminton Club
1432 N. Main Street
Orange, CA 92867
Orange County, California