The China Open (Beijing, September 30‒October 8) came to a close this weekend with 
Caroline Garcia
(
VCORE SV 100
, Yonex Poly String) besting World No. 1, Simona Halep in the finals. Within the last 2 weeks, Caroline has gone on a 11-match winning streak and becoming the first player to capture the Wuhan-Beijing Double. The recent wins have launched Caroline for a Top 10 debut at World No. 9. Starting the year at World No. 24, Garcia has switched to Team Yonex with the VCORE SV. The switch has seen her make a steady increase in rankings and her Wuhan-Beijing Double has put her in close contention for the last spot at the year-end WTA Finals in Singapore. Follow her progress as the final few weeks of the season unfold!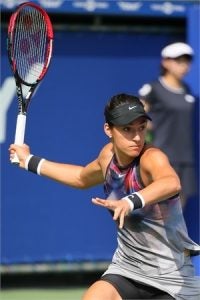 Another player achieving the Wuhan-Beijing Double, is 
Martina Hingis
(
EZONE Lite
, 
POLYTOUR FIRE 125
 / 
POLYTOUR PRO 125
, 
POWER CUSHION ECLIPSION L
) & Yung-Jan Chan. This title comes following their victory at the Wuhan Open, marking the duo's 4
th
 straight tournament win. Martina has maintained great performance since switching to the new EZONE Lite as she heads into the WTA Finals as World No. 1. Switching to the lighter EZONE Lite, she is "heading into the year-end finals with so much confidence. I like the lighter frame since it's more maneuverable, the new HYPER MG gives me the extra punch to be aggressive up at net."
On the men's side, 
Nick Kyrgios
(
EZONE DR 98
, 
POLYTOUR PRO 120
) finished second with some tremendous shots from his EZONE DR 98.
*Photo: Toray PPO Tennis 2017
Women's Singles
Caroline Garcia
(
VCORE SV 100
, Yonex Poly String) (FRA)
6-4, 7-6(3)
Simona Halep (ROU) [2]
Women's Doubles
Martina Hingis
(
EZONE Lite
, 
POLYTOUR FIRE 125
 / 
POLYTOUR PRO 125
, 
POWER CUSHION ECLIPSION L
) (SUI) [1] / Yung-Jan Chan (TPE)
6-1, 6-4
Andrea Hlavackova
 (
VCORE SV 100
, 
POLYTOUR PRO 125
) (CZE) [4] / Timea Babos (HUN)
Men's Singles
Rafael Nadal (ESP) [1]
6-2, 6-1
Nick Kyrgios
(
EZONE DR 98
, 
POLYTOUR PRO 120
) (AUS) [8]