Marcus F. Gideon and Kevin S. Sukamuljo (INA), using new ASTROX 88 racquets, achieved their second consecutive title at the YONEX All England Open (Super 1000) in Birmingham on March 18
th
. On the women's side, Danish pair Kamilla Rytter Juhl and Christinna Pedersen, hoisted their first All England trophy, while Yuta Watanabe and Arisa Higashino became the first Japanese mixed doubles pair to win a tour title.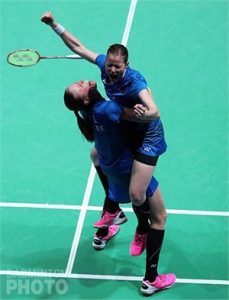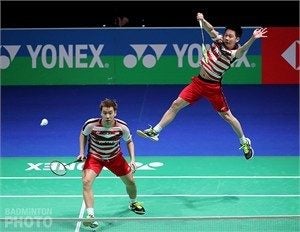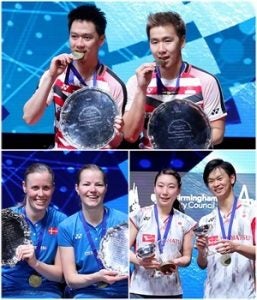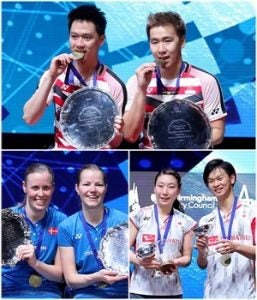 Appearing unstoppable, Gideon and Sukamuljo marched to a second, consecutive All England title in a remarkable straight sets win (21-18, 21-17) against Mathias Boe and Carsten Mogensen (DEN) in a final that was an ASTROX 88 showdown. "Of course we feel very, very happy, and can't believe we're defending champions," Sukamuljo said of their win. Gideon, expressing his satisfaction with his new racquet, added "(The ASTROX 88 D) gives me more power to my smash, and lets me drive the shuttle faster." With this win, the pair has now won six consecutive championships in tournaments in which they've appeared, and their World No. 1 ranking seems untouchable.
In women's doubles, DUORA-wielding Danes, Rytter Juhl, and Pedersen realized their dream of an All England championship. "This is amazing! This is the most unbelievable feeling I have ever had in badminton," Pedersen exclaimed emotionally after their win.
Watanabe and Higashino became the first Japanese to win a mixed doubles championship. Ranked No. 48 in the world, they defeated a 5
th
-seeded team from China to capture the title in a closely fought 3-set match (15-21, 22-20, 21-16) that lasted an hour.
This year marked the 108
th
 occurrence of the prestigious tournament, as well as the 35
th
 anniversary of Yonex's partnership with the All England, providing services and tools, such as shuttlecocks. The Yonex Stringing Team was there too, as always, providing world-class support to the players at the tournament. Celebrating 25 years of masterful stringing service, Mark Lawrence (pictured, center) was presented with a commemorative award.
Photos by Badminton Photo
Marcus F. Gideon: ASTROX 88 D, BG65Ti, Power Cushion 65 Z Men
Kevin S. Sukamuljo: ASTROX 88 S, BG80, Power Cushion 65 Z Men
Christinna Pedersen: DUORA 7, BG80, Power Cushion 65 Z Women
Kamilla Rytter Juhl: DUORA 10, BG80, Power Cushion 65 Z Women
Yuta Watanabe: DUORA Z-STRIKE, BG66UM, Power Cushion 65 Z Men
Arisa Higashino: VOLTRIC FB, BG66UM
Yonex Stringing Team
YONEX All England Open Site
All match results