Yonex and the Badminton World Federation signed an agreement on March 10
th
, 2017 naming Yonex as the Official Equipment Partner for BWF Major Events.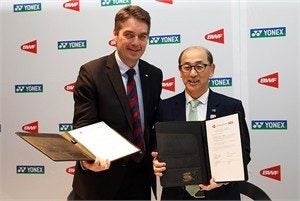 The agreement covers three big events on the BWF calendar for a five year period: 
The Sudirman Cup
, 
The Thomas and Uber Cup Finals
 and 
World Championships
. Commencing at the 2017 Sudirman Cup in the Gold Coast, Australia, Yonex will provide 
shuttlecocks
, 
court mats
, 
nets
 and 
poles 
as well as 
stringing services
 at the three major events. The deal was made at a press conference held at the Yonex All England Badminton Championships attended by BWF President Poul-Erik Høyer and Yonex Chairman Ben Yoneyama.
Yonex is proud to have been selected to act as the Official Equipment Partner for these three major BWF events. Working together with the BWF, Yonex hopes to continue working towards the goal set out in our corporate philosophy, "contribute to the world through innovative technology and the highest quality products."
About the Yonex Stringing Team
The Yonex Stringing Team is a global network of stringers rich with knowledge and proven skills. To help players perform to the best of their abilities, the Yonex Stringing Team works tirelessly at several tournaments around the world, providing top-quality stringing service. Composed of approximately 1,500* members who carry out tennis, badminton and soft tennis stringing, it is the biggest stringing team in the world*.
The Team has won accolades from the world's top players for their great precision and speed. Furthermore, carrying out services with made-in-Japan stringing machines, the Yonex Stringing Team is fully equipped to take on the challenges presented by major global tournaments.
Learn more about the Yonex Stringing Team here: 
http://www.yonex.com/stringingteam/
*Current as of March 2017
*The Yonex Stringing Team is the only team to string at an international level across three different sports.
Photograph © Badmintonphoto