This past weekend, Bay Area high schools went head to head in the North Coast Section (NCS) Badminton Individual Championships, held at Newark Memorial High School in Newark, and Piner High School in Santa Rosa.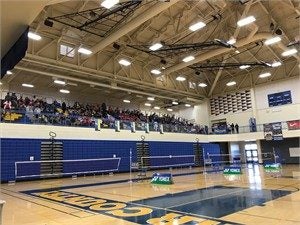 A total of 380 student-athletes representing 50 schools competed, and the top players in each category (girls and boys singles, girls and boys doubles, and mixed doubles) will go on to compete at the California Interscholastic Federation (CIF) for Northern California Badminton Championships on May 20 at Independence High School in San Jose. Yonex is the official badminton equipment sponsor of the CIF NCS, the governing body of high school athletics in Northern California, and is proud to present a scholarship to a senior girl and boy each year, which has been done for the past 11 years. Learn more about the scholarship here,
http://www.cifncs.org/sports/badminton/Yonex_scholarship_application.pdf
 and view scholarship history here.  
http://www.cifncs.org/sports/badminton/RECORDwinners.pdf
Date: May 20 at 9:00 a.m.
Location: Independence High School, San Jose, CA
Tickets: $12 for adults and $8 for seniors (65+), children (5+) and students with a valid ASB card.
The bracket can be viewed here.
2017 Division 1 and 2 results can be found at 
http://www.cifncs.org/sports/badminton/index
 under Brackets and History.