The Korean Open Super Series in Seoul held until September 17th, resulted in Yonex players taking 4 of the 5 titles!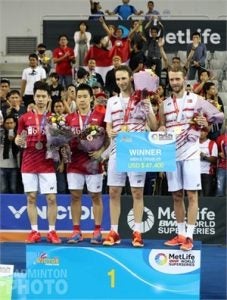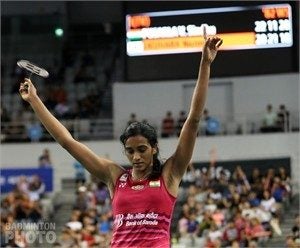 In Men's Singles, 20-year-old Anthony Sinisuka Ginting (VOLTRIC Z-FORCE Ⅱ) from Indonesia claimed his first title at an international tournament in a thriller all-Indonesian battle which ended with a final game of 22-20. The young Indonesian also bested the World No.1 en route to the final, 16-21, 21-18, 21-13. It was an event symbolizing the remarkable rise of young talent from Indonesia.
Pusarla V. Sindhu (VOLTRIC Z-FORCE Ⅱ) claimed her second Super Series win this season with a final match victory 22-20, 11-21, 21-18. The young Indian showed unrivaled stamina and tenacity moving into the later rounds of the tournament. The finals featured an classic marathon match with rival Nozomi Okuhara, a rivalry which started from the Rio Olympics. This wins ties their overall head-to-head count to 4-4.
In Men's Doubles, Mathias Boe (ARCSABER 11) & Carsten Mogensen(ARCSABER 11) showed their experience with a victory over the Indonesian young guns Marcus Gideon & Kevin Sanjaya, bringing their Super Series total wins to 16.
Praveen Jordan (NANORAY 900) & Debby Susanto (NANORAY 800) won their first title of the season in the Mixed Doubles event.
You can check the results of the tournament here:
http://www.tournamentsoftware.com/sport/matches.aspx?id=C7E638C4-27A0-42F6-A352-61FA94B71461&d=20170917