The excitement of the final day of the Yonex-Sunrise India Open (Super 500, New Delhi) unfolded in front of a huge crowd on Sunday, the 4th, and of the 16 finalists, 15 were using Yonex equipment.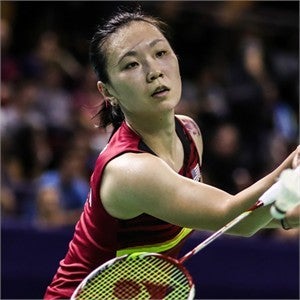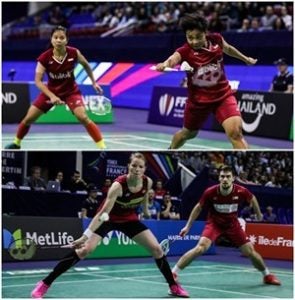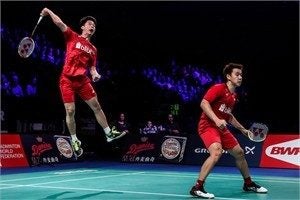 A new queen emerged in women's singles. Ranked 11th in the world, Beiwen Zhang (USA) claimed her first championship of the Super 500 (previously the Super Series). Zhang overtook local Pusarla V. Sindhu (IND) in the closing moments of the final to carry out the win. Originally born in China, Zhang emigrated to the U.S. five years ago at the age of 22, and now competes as an American.
Duo Kevin Sanjaya Sukamuljo and Marcus Gideon (INA) continue their 2-week winning streak. Since joining team Yonex in 2017, they have won 9 of 11 matches. The pair burst onto the scene at last year's China Open and have taken home five consecutive championships since. Nicknamed the "Minions," they're enjoying a rapid rise in popularity due to their incredible success.
In women's doubles, Greysia Polii and Apriyani Rahayu (INA) secured their second tournament victory. While in mixed doubles, Mathias Christiansen and Christinna Pedersen (DEN), who began playing together in the second half of 2017, took home their first title as a pair. "This win gives us confidence. Today went really well," they said, reflecting on the match.
Photos used in this article are from past tournaments
Beiwen Zhang: ARCSABER11, BG80, POWER CUSHION 65X
Marcus Gideon: ASTROX77, BG65Ti, POWER CUSHION 65Z MEN
Kevin Sukamuljo: ARCSABER11, BG80, POWER CUSHION 65Z MEN
Greysia Polii: ARCSABER11, BG80, POWER CUSHION 03
Apriyani Rahayu: DUORA 10, BG80, POWER CUSHION 03
Mathias Christiansen: ARCSABER11, BG80, POWER CUSHION 65Z MEN
Christinna Pedersen: DUORA 7, BG80, POWER CUSHION 65 Z LADIES