Mathias Boe and Carsten Mogensen (DEN), brandishing the new ASTROX 88 racquets decisively claimed the men's doubles championship title at the YONEX Swiss Open (Super300/Basel) on February 25th. Both players showcased their might in the semi-final and final by winning both matches in straight sets.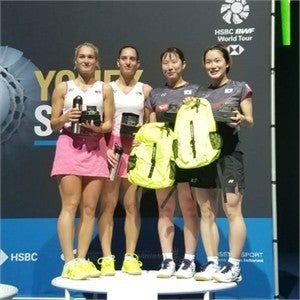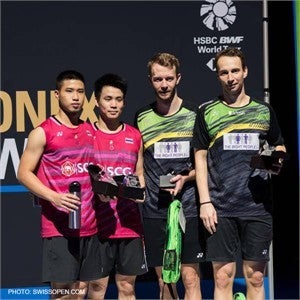 Boe and Mogensen began using the newly released ASTROX 88S and 88D, respectively, during this tournament. These racquets feature newly designed frames, suited to each player in a doubles side, and offer the propulsive force and keen maneuverability necessary to execute powerful, consecutive smash shots. Additionally, every finalist across all five events used YONEX gear, which became a significant topic of conversation at the tournament.
Ayako Sakuramoto and Yukiko Takahata (JPN) won women's doubles. In their first match, they defeated the tournament's No. 3 seed in straight sets, and in the semi-finals, they built on their momentum by defeating their Japanese opponents in a full game. They faced No. 1 seeds Gabriela and Stefani Stoeva of Bulgaria in the final, and fought through a tough, back-and-forth match before taking five consecutive points in the last set of the full game to defeat the Stoeva sisters.
Photos used in this article are from past tournaments
Mathias Boe (DEN): ASTROX 88S, BG80, POWER CUSHION COMFORT Z MEN
Carsten Mogensen (DEN): ASTROX 88D, BG80, POWER CUSHION 03
Ayaka Saukramoto (JPN): DUORA 7, NBG99