Heading into the final months of the tennis season also known as the "Asian Swing," Yonex will serve as an official stringer at a total of 9 ATP/WTA tournaments including the prestigious Shanghai Rolex Masters. We will dispatch the "Yonex Stringing Team" composed of top stringers from around the world to each tournament to support players to perform at their best.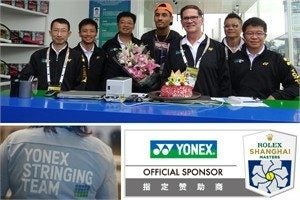 The Yonex Stringing Team also serves as an official stringer for tennis at some of tennis' biggest stages including the Australian Open, and the Beijing, London, and Rio Olympics and Paralympics. We use solid technology backed by experience and made in Japan high-performance stringing machines that are critically praised for its performance. The Yonex Stringing Team supports players not only in tennis, but at badminton and soft tennis international tournaments, with over 1,500 members worldwide and are one the world's largest organization in racquet sports*.
As we strive to create the best stringing service, we are honored to be selected as the official stringer at major events. We hope our service at events and to its players will contribute to overall stringing awareness, improvement in stringing technology and the development of tennis as a sport.
*The Yonex Stringing Team is the only team to string at an international level across three different sports
Yonex Stringing Team Overview
The Yonex Stringing Team is a global network of stringers with extensive knowledge and proven technology and skill. It was organized for the purpose of improving the service to customers and the performance of athletes. We support top players in international tournaments in Tennis, Badminton and Soft Tennis.
2017 Tennis Stringing Service Main Tournaments
Grand Slam: Australian Open
ATP:
Shanghai Rolex Masters (ATP 1000)
Rakuten Japan Open (ATP 500)
Chengdu Open (ATP 250)
Shenzhen Open (ATP 250)
WTA:
WTA Elite Trophy (Tour Championships)
Toray Pan Pacific Open (Premier)
Wuhan Open (Premier)
Tianjin Open (International)
Hong Kong Open (International)
2016 Rio de Janeiro Olympic & Paralympic Games
2012 London Olympic & Paralympic Games
2008 Beijing Olympic & Paralympic Games
http://www.yonex.com/stringingteam/