The Yonex 
Royal EZONE Hybrid Fairway Wood
 has earned a Gold Medal on Golf Digest Online's HOT LIST JAPAN 2017. The Royal EZONE series is especially designed to allow golfers with slow swing speeds to effortlessly achieve increased distance. The Royal EZONE series will be launching in the United States in the fall of 2017.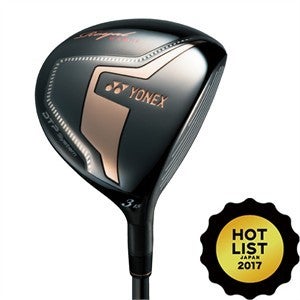 For this year's HOT LIST JAPAN, the newest golf clubs launching in the Japanese market (April 2016-May 2017) were reviewed by a panel of 4 experts —Taichiro Kanatani (professional golfer), Mark Kanai (club analyst), Yoshinori Kanomata (club fitter), and Masashi Seki (PGA certified instructor)—, and 17 additional testers comprised of amateur players and golf writers.
The Yonex Royal EZONE Hybrid Fairway Woods provide enhanced power while boasting the pinpoint accuracy of irons. Testers praised this club's high maneuverability, power, and balance, and commented that "it increases head speed," "makes it possible to launch the ball easily with a solid impact," and "the shaft allows a very forgiving swing."
About Golf Digest's HOT LIST JAPAN
The highly regarded American magazine, Golf Digest, has produced annual rankings of golf equipment since 2004. It began publishing its Japan-focused list through the HOT LIST JAPAN in 2012. New equipment is evaluated and ranked by category (fairway woods, utilities, irons, wedges, and putters), and given the distinction of a Gold or Silver medal based on reviews from a panel of expert judges.