Angelique Kerber
(VCORE Si 100, POLYTOUR FIRE 120)
has officially been named as the 2016 WTA Year-End World No. 1. This is yet another amazing achievement out of many for the German in what has been an absolutely spectacular year.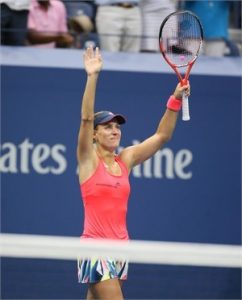 Earning the great honor of Year-End World No. 1 makes Angie only the twelfth woman to do so since computer rankings commenced in November 1975, and also makes her the second German to earn the ranking after Steffi Graf. "It is a great honor and achievement to finish the year as the No.1 player in the world. This is one of the things I've always been dreaming of - to become No.1," said Angie in a comment on the official WTA website.
2016 was an incredible year for Angelique, opening with the German winning her very first Grand Slam title at the Australian Open. This great achievement was followed by her reaching the finals at Wimbledon, going on to win her second Grand Slam title at the US Open. Along with winning her second major title, she also reached the coveted World No. 1 spot in the WTA rankings. This achievement was momentous, and broke Serena William's straight 186 weeks at the top.
Angelique will play at the WTA Finals which start this weekend in Singapore, and is the No. 1 seed at the tournament.