Stan Wawrinka
(
VCORE Duel G 97
,
POWER CUSHION ECLIPSION
) improved his head-to-head record against Croatian Marin Cilic 11-2 in his second match at the ATP World Tour Finals. The World No. 3 Swiss expertly pulled off a straight 7-6(3), 7-6(3) win in 1 hour and 58 minutes, improving his chances of making it through to the knockout stage.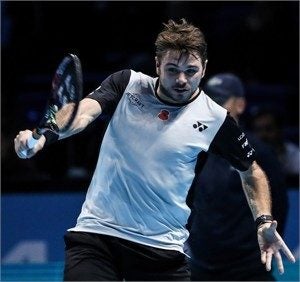 Up against a set point in the tense opening set, Stan kept focused, saving it and forcing a tiebreaker. Stan the Man boosted his performance going into set 2, starting to take control of the baseline and harnessing the ferocious power of his one-handed backhand. The Swiss remained calm and in command as the match moved into its second tiebreaker. With exceptionally accurate serving, Stan seized the match, gaining an opportunity to qualify for the elimination round.
"I'm really happy with the way I played in general," commented Stan after the match on the official ATP World Tour Website, "I think the level was really high… I think I was moving great. It was a great victory for me."
He moves on to play Andy Murray on Friday in hopes of advancing to the semifinals.
ATP World Tour Finals 2016 Tournament Results
Men's Singles (Round Robin)
Stan Wawrinka
(
VCORE Duel G 97
,
POWER CUSHION ECLIPSION
)(SUI) def. [6] Marin Cilic (CRO) 7-6(3), 7-6(3)