It was 
Stan Wawrinka
(
VCORE Tour G
, New Shoes) who stood victorious under the spotlights at The O2 against David Ferrer in his second round robin match at this year's ATP World Tour Finals.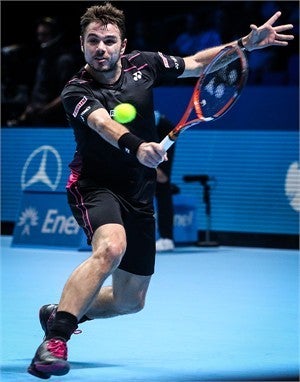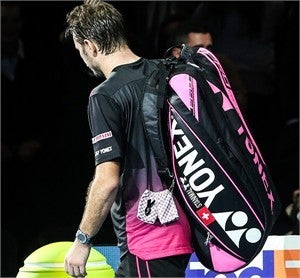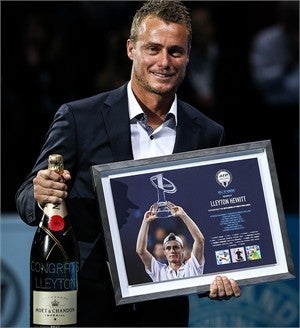 The first set saw the World No. 4 Swiss hold a perilous three game deficit at 5-2, but Stan the Man capitalized on his opponent's errors to regain control of the match. Grabbing two breaks to shoot up to 5-all, Stan proceeded to serve out the set. The second set would see Stan grab two more breaks which would lead him to a straight 7-5, 6-2 win. Stanimal claimed 34 winners and three aces across the 93-minute encounter.
Stan is competing at the ATP World Tour Finals in custom apparel made exactly to the Roland Garros champion's specifications featuring a striking black and pink color combo. The Swiss is also competing in new shoes designed in the same distinctive color scheme. Made to withstand tough footwork and provide ample support, these new shoes cut down heavily on power loss and allow Stan to swiftly navigate the court. To further compliment the black and pink motif, Stan is appearing on court with the
rose pink colored Pro Series racquet bag
.
In men's doubles,
Pierre-Hugues Herbert
 (
VCORE Tour G
) and Nicolas Mahut earned a hard-fought win against Marcin Matkowski and Nenad Zimonjic. The see-saw match lead to an intense tiebreaker that saw the French pair prevail at 5-7, 6-3, 10-8.
Lleyton Hewitt Receives Honor
YONEX veteran
Lleyton Hewitt
was honored for his renowned career in an on-court ceremony at the Finals. The tennis legend will be retiring after the 2016 Australian Open, and received a commemorative frame looking back on his accomplishments, which include ending as World No. 1 for two consecutive years in 2001 and 2002. He was also triumphant two times at the 2001 and 2002 season finales. "It was many years ago that I won this season-ending tournament and when I held the No. 1 trophy. The Tour has been a big part of my life, and I've loved every minute of it. Thank you to everyone for supporting me," said the Aussie, reminiscing about his career in a comment on the official ATP website.
ATP World Tour Finals Results
Men's Singles Round Robin
[4]
Stan Wawrinka
(
VCORE Tour G
, New Shoes)(SUI) def. [7] David Ferrer  (ESP) 7-5, 6-2
Men's Doubles Round Robin
[6]
Pierre-Hugues Herbert
(
VCORE Tour G
)(FRA)/Nicolas Mahut (FRA) def. [7] Marcin Matkowski (POL)/Nenad Zimonjic (SRB) 5-7, 6-3, 10-8