No. 7 seed
Angelique Kerber
 (
VCORE Si 100
, POLYTOUR FIRE 120) has advanced to her first Grand Slam final on the 11
th
day of the 2016 Australian Open.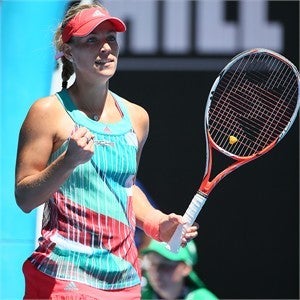 The German went up against un-seeded Englishwoman Johanna Konta, demonstrating her superior on-court prowess against her less-experienced opponent. After a tight opening set, Angie took advantage of her opponent's increasing errors in the second to seize victory at 7-5, 6-2. She faces defending champion Serena Williams in the final.
Competing with the
VCORE Si 100
, the racquet is the perfect complement for the German's powerful, spin-heavy game. "This racquet gives me much more spin, feeling, and control. This racquet will help get me to the next level," comment Angie, praising the VCORE Si. Angie has also started using the new POLYTOUR FIRE 120 tennis string as of this season, powering up her game even more. "I can feel the ball on the racquet, and the string gives me much more power," Angie stated, expressing satisfaction with the POLYTOUR FIRE.
Upon making it to her very first Grand Slam final, Angelique exclaimed in the on-court interview, "It's a really special moment. I reached the final for the first time." Her thoughts looking forward? "It's just amazing to play against the No.1 in the final in the first Grand Slam of the year. I will try to give everything, I have nothing to lose."
2016 Australian Open Tournament Results
Women's Singles (Semifinal)
[7]
Angelique Kerber
 (
VCORE Si 100
, POLYTOUR FIRE 120)(GER) def. Johanna Konta (GBR) 7-5, 6-2