This year's Australian Open came to a close on January 31st, and marked the end of the Yonex Stringing Team's first year stringing at the tournament. This was the team's very first time stringing officially at a Grand Slam tournament.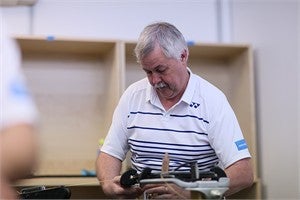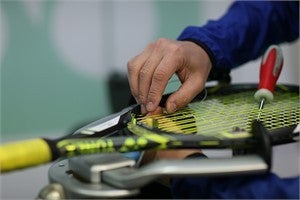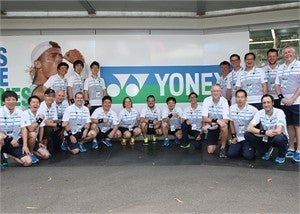 The specific team assembled for this year's Australian Open called upon the world's top stringing talent, with certified technicians from groups such as the European Racquet Stringers Association, United States Racquet Stringers Association and the Japan Racquet Stringers Association gathered at the event. The team was diverse; with a grand total of 22 members from 12 different countries lending their skills to this year's stringing service.
The team performed a grand total of 5,292* restrings—111% of last year's total—with the largest number of restrings in one day clocking in at 544 racquets. Both values set monumental new records for total racquets strung both throughout the tournament and in one day. Among those many racquets strung at the tournament, many went into the hands of
Angelique Kerber
 (
VCORE Si 100
,
POLYTOUR FIRE 120), who would go on to achieve her first Grand Slam victory. The team was on site for a majority of the month of January, stringing right from the early practice rounds through to the very end, across all disciplines ranging from the main singles and doubles events through to the junior and wheelchair tournaments.
Yonex is profoundly honored to have the opportunity to act as the official stringer for a Grand Slam tournament, especially the Australian Open. The team will build upon this years' experience, and harness it looking forward towards next year's tournament.
About the Yonex Stringing Team
The Yonex Stringing Team is a global network of stringers rich with knowledge and proven skills. To allow players the best performance possible and provide customers with exceptional service, the team strives tirelessly to sharpen its expertise and techniques.
Supporting the Yonex international team of stringing experts is a state-of-the-art lineup of advanced, Japanese-engineered stringing machines. Armed with the industry's leading knowhow, technique and cutting-edge equipment, the Yonex Stringing Team travels the world, offering their services at various high-profile tennis, badminton and soft tennis tournaments. The team's storied experience includes carrying out official stringing service for tennis at the Beijing and London Olympics. With around 700 technicians worldwide, it is the largest stringing team* in racquet sports.
Yonex Stringing Team official
website
.
*The Yonex Stringing Team is the only team to string at an international level across three different sports.
Australian Open 2016 Stringing Stats
| | | |
| --- | --- | --- |
| | 2016 | 2015 (Reference Value) |
| Total Racquets Strung | 5,292 | 4,763 |
| Most Racquets Strung in 1 Day | 544 | 462 |
| Amount of String Used | Approx. 63,504m | Approx. 57,156m |
*Tentative value current as of February 1st, 2016; measured by Yonex.