To celebrate the success of our Yonex athletes this year, we're celebrating with the "World Class Performance Campaign".  You will receive an exclusive Yonex racquet series t-shirt with a purchase of a qualifying racquet.*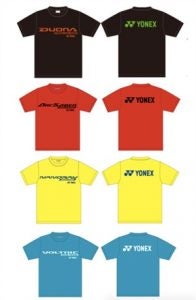 See one of the participating retailers below for more information. *Offer good while supplies last.
San Diego Badminton Supply
1343 Encinitas Blvd.
Encinitas, CA 92024
http://badminton.net
Joy Badminton
4918 Santa Monica Blvd
Los Angeles, CA 90029
(323) 664-0808
http://joybadminton.com/
Los Angeles Badminton Club
10410 Valley Blvd
El Monte, CA 91731
(626) 279-9919
http://www.labadmintonclub.com/
Bintang Badminton
1365 Geneva Drive
Sunnyvale, CA 94089
(408) 871-1683
http://bintangbadminton.org
East Bay Badminton
4230 Hubbard St.
Emeryville, CA 94608
(510) 655-8989
http://eastbaybadminton.com/proshop
Asby Sports
Capitol Square Mal
392 N. Capitol Ave
San Jose, CA 95133
(408) 259-6770
http://www.asby.com/
Plano Badminton Center
4050 Premier Drive, Suite 250
Plano, TX 75023
(214)509-8168
http://planobadmintoncenter.com/
Supreme Sports Supply
(301) 580-227
http://supremesportssupply.com
NJ Badminton Club
2 Changebridge Road
Montville, NJ 07045
(201) 572-4993
http://www.njbadminton.com/
NYC Badminton
132-70 34th Ave
Flushing, NY 11354
(646) 271-3228
http://newyorkcitybadminton.com
Serve N Play
(919) 275-2767
http://www.servenplay.com/
Badminton Warehouse
(844) RACQUET (722-7838)
https://www.badmintonwarehouse.com/