Badminton history was made on May 22nd as the 29th edition of the BWF Thomas Cup came to an astonishing conclusion in the final match between Indonesia and Denmark. While expectations where on Indonesia to add another title to their large collection, it was the Danes that held the prestigious Thomas Cup in their hands at the end of the day. This marks the first time Denmark has ever won the esteemed title, and also the first for any European nation.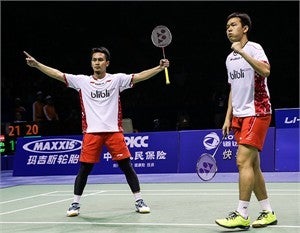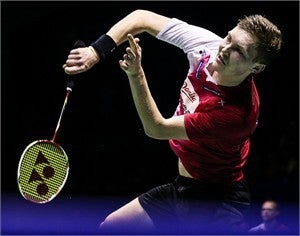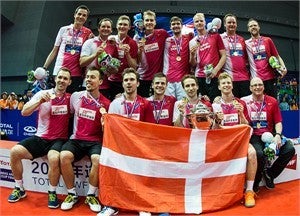 The Danes Dominate
The ranks of Denmark's singles players dominated in all of their matches, earning straight victories. 
Viktor Axelsen
 (
ARCSABER 11
,
POWER CUSHION 65
) took point against 
Tommy Sugiarto
(
VOLTRIC 80 E-tune
, 
POWER CUSHION 02 LTD
) and was in little danger throughout game 1. While Tommy was hot on the Dane's tale, Viktor maintained a confident lead for the entirety of the game. A carefully controlled rally on the part of Viktor saw Tommy hit long, putting the Dane a game up. Game 2 was more of a see-saw affair that could have extended the match to three games, but Viktor powered back from a 3-point deficit at 18-15, scoring 6 straight points to take the match 21-17 21-18. After the match was decided with a dazzling smash into the side of Tommy's court, an overjoyed Viktor ran in front of the audience, letting two lucky fans have his racquet and shirt.
Jan O. Jorgensen
 (
VOLTRIC 80 E-tune
, 
POWER CUSHION COMFORT TOUR
) would face the young
Ginting Anthony
(
VOLTRIC Z-FORCE II
, Yonex Shoes), with the Dane's greater experience allowing him to get the best of his opponent. The towering 185 cm Jan sealed the deal with a swift push at the net, 21-17 21-12. After a third singles victory from Hans-Kristian Vittinghus, Denmark was able to win their first Thomas Cup title 3-2.
The Indonesians boasted strength in doubles, overtaking the Danes in straight games across both doubles matches.
Mohammad Ahsan
 (
NANORAY 900
, POWER CUSHION 65 WIDE) and 
Hendra Setiawan
 (
NANORAY 900
, 
POWER CUSHION AERUS MENS
) went head-to-head with
Mads Pieler Kolding
 (
ARCSABER 11
, Yonex Shoes) and Mads Conrad-Petersen, triumphing at 21-18 21-13. Meanwhile
Angga Pratama
 (
NANORAY 900
,
POWER CUSHION 65
) and
Ricky Karanda Suwardi
 (
NANORAY 900
, Yonex Shoes) were victorious over
Kim Astrup
(
DUORA 10
,
POWER CUSHION AERUS MENS
)and
Anders Skaarup Rasmussen
(
DUORA 10
,
POWER CUSHION 65
) 21-16 21-14.
With one of badminton's most prestigious team events behind them, the members of Team Yonex will return to individual competition on May 30th for the Indonesia Open.
BWF Thomas and Uber Cup Finals 2016 Results
Thomas Cup Final
Denmark def. Indonesia 3-2