The second day of the 2016 BWF Thomas and Uber Cup Finals concluded with more spectacular matches from the world's renowned badminton powerhouses.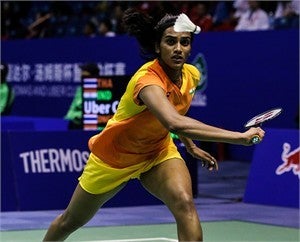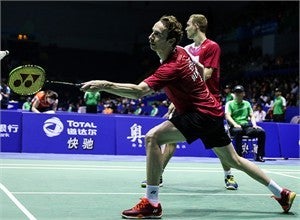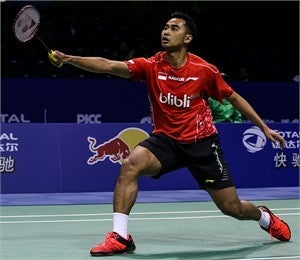 Group D Powerhouses Take to the Court
In Group D, Denmark got the proceedings started with a confident 5-0 victory over South Africa without dropping a single game. Up to bat first was European Championships gold medalist
Viktor Axelsen
 (
ARCSABER 11
,
POWER CUSHION 65
), whose keen skill proved too much for opponent Jacob Maliekal. Despite holding a slight lead early in the opening game, Viktor quickly took control to secure Denmark's first win at this year's Thomas Cup, 21-14 21-11.  
Jan O. Jorgensen
 (
VOLTRIC 80 E-tune
,
POWER CUSHION COMFORT TOUR
)—European Championships silver medalist—stepped on court next to triumph over Cameron Coetzer, 21-9 21-9. Jan maintained the lead over his opponent for the entirety of the match, closing it up in a quick 22 minutes.
Also in Group D with Denmark was Chinese Taipei, who likewise commanded a 5-0 win over their opponents from New Zealand. The nation's No. 1
Chou Tien Chen
(
DUORA 10
, 
POWER CUSHION 02 LTD
) conquered over Dylan Soedjasa with a straight 21-14 21-6 win.
On the women's side, India faced off against Australia in group D.
Saina Nehwal
 (
NANORAY 900
, 
POWER CUSHION 02 LADIES
) lead the way in India's 5-0 win over Australia, triumphing in a see-saw match against opponent Hsuan-Yu Wendy Chen, 22-20 21-14. Japan proved to be a brick wall in the face of Germany, winning at 5-0. After an impressive 21-13 21-3 win over Isabel Herttrich and Lara Kaepplein by 
Ayaka Takahashi
 (
VOLTRIC 80 E-tune
) and Misaki Matsutomo;
Akane Yamaguchi 
(
VOLTRIC 70 E-tune
) defeated Luise Heim in just under 30 minutes, 21-10 21-14.
The Legacy Tour in China and England
Two Legends' Vision Legacy Tour events were held in both China and England earlier in the month. China held the second leg of its nation-wide tour in Nanning between May 7th and 8th and welcomed 800 young fans. Meanwhile, England's first Legacy event was held in Northampton on May 10th, led by
Chris
and
Gabby Adcock
. Please find more details in the links below.
Nanning:  
http://legends.yonex.com/legacytour/nanning/
Northampton:
http://legends.yonex.com/legacytour/northampton/
BWF Thomas and Uber Cup Finals 2016 Results
Thomas Cup
Group A
Japan def. Mexico 5-0
China def. France 5-0
Group C
Korea def. England 5-0
Malaysia def. Germany 5-0
Group D
Chinese Taipei def. New Zealand 5-0
Denmark def. South Africa 5-0
Uber Cup
Group B
Korea def. Mauritius 5-0
Chinese Taipei def. USA 5-0
Group C
Indonesia def. Hong Kong 3-2
Thailand def. Bulgaria 5-0
Group D
Japan def. Germany 5-0
India def. Australia 5-0