The biennial BWF Thomas and Uber Cup Finals—the veritable World Cup of badminton—got under way on May 15
th
. This edition of the tournament is being held in the city of Kunshan in China, and once again welcomes the world's top nations in badminton.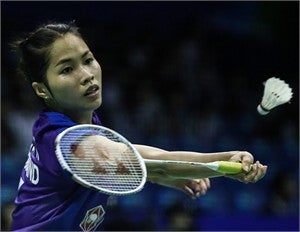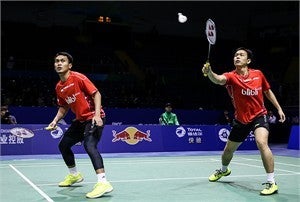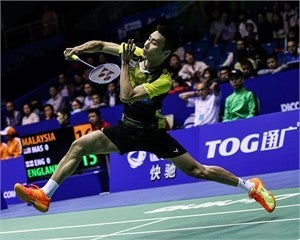 Lee Chong Wei Leads Malaysia
Coming off of a sensational victory at the Asia Championships,
Lee Chong Wei
 (
DUORA 10 LCW
, 
POWER CUSHION 02 LTD
) was once again firing on all cylinders in his first Thomas Cup match for his country, Malaysia. Up against England in the first Round Robin match, veteran Chong Wei faced off against the younger Toby Penty. The Malaysian's English opponent proved tenacious in the opening game, the players matching each other point for point. However, Chong Wei would take the reins after drawing even 15-15, proceeding to secure the first game by a healthy margin. The second game would see the Englishman strike first blood, but Chong Wei would come out on top in the end, the final score coming to 21-15 21-11. Malaysia would prove victorious over England as a whole, winning at 4-1.
Meanwhile, Indonesia crushed Hong Kong 5-0. It was no easy feat, as scores came close in nearly all of the matches, with Indonesia pulling through by narrow margins each time. Matches of note included a tense see-saw encounter between 2015 World Champions
Mohammad Ahsan
 (
NANORAY 900
, POWER CUSHION 75) and
Hendra Setiawan
 (
NANORAY 900
, 
POWER CUSHION AERUS MENS
) versus Chin Chung Or and Chun Man Tang (22-20 22-20) along with
Tommy Sugiarto
(
VOLTRIC 80 E-tune
, 
POWER CUSHION 02 LTD
) versus Ka Long Angus Ng (21-17 22-20). Tommy persevered in the face of an intimidating game point 20-16 in game 2, but managed to score six consecutive points to win in straight games.
Radical Ratchanok Strikes Again
Thailand would dominate over Hong Kong in their first Uber Cup encounter, with
Ratchanok Intanon
 (
VOLTRIC 70 E-tune
, 
POWER CUSHION 02 LADIES
) taking point against Pui Yin Yip. After a close opening game, Ratchanok would take full control in the second half of the match, not being led even once. The match closed at 21-18 21-15, with Thailand winning over Hong Kong at 4-1.
Kamilla Rytter Juhl
(
DUORA 10
, Yonex Shoes) and
Christinna Pedersen
's
(
DUORA 7
, 
POWER CUSHION 02 LADIES
) victory against Clara Azurmendi and Laia Oset punctuated Denmark's 4-1 win over Spain, the Danish duo triumphing at 21-7 21-11. However,
Carolina Marin
 (
NANORAY Z-SPEED
, Yonex Shoes) would secure a victory right out of the gate for Spain against Line Kjaersfeldt, coming back from a  game down to win at 8-21 23-21 10-21 in just under one hour.
BWF Thomas and Uber Cup Finals 2016 Results
Thomas Cup
Group A
Japan def. France 5-0
China def. Mexico 5-0
Group B
Indonesia def. Hong Kong 5-0
Thailand def. India 3-2
Group C
Korea def. Germany 5-0
Malaysia def. England 4-1
Uber Cup
Group A
China def. Malaysia 5-0
Denmark def. Spain 4-1
Group B
Korea def. USA 5-0
Chinese Taipei def. Mauritius 5-0
Group C
Indonesia def. Bulgaria 5-0
Thailand def. Hong Kong 4-1