The
EZONE XPG line
of Yonex golf clubs will be receiving a new addition this October—the
EZONE XPG Type HD driver
. Featuring the EZONE XPG's characteristic
Carbon Composite Crown
and
Dual Tungsten Power (DTP) System
, the EZONE XPG Type HD is a welcome addition to the line designed for golfers seeking a higher, more powerful draw-biased trajectory.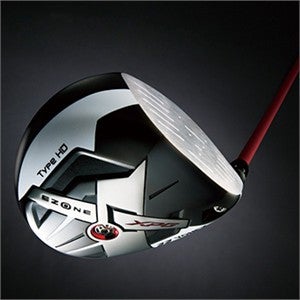 Expanded Carbon Composite Crown for Higher Draw
The secret behind the EZONE XPG Type HD's super draw trajectory? Its new expanded Carbon Composite Crown. The EZONE XPG Type HD features a lower and deeper center of gravity specifically designed for those who desire a high draw. Take a look at how it breaks down in the graph below.
Has that powerful draw been missing from your game? If so, EZONE XPG Type HD driver is the club for you.
Explosive Power via Dual Tungsten Power (DTP) System                      
The Yonex Dual Tungsten Power (DTP) System is an innovative engineering breakthrough granting maximum power and distance to players. Tungsten, present in the grip and club head, works in conjunction with the counterbalanced EX310 shaft. The result is a swing that delivers explosive power for the same effort, adding yards to your game.
Take your game to the next level with the high draw of the EZONE XPG Type HD.
Save